In mid-September, Nikole Neidlinger, MD, transplant surgeon in the University of Wisconsin Department of Surgery, got an unexpected invitation from a U.S. government office.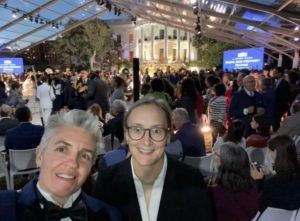 Seven days later, she and her wife Anne Marsh, MD, Director of the UW Health Pediatric Palliative Care Program and a hematologist-oncologist in the University of Wisconsin Department of Pediatrics, found themselves under a vaulted glass dome on the South Lawn of the White House listening to Sir Elton John perform live and meeting luminaries like tennis superstar Billie Jean King, U.S. Transportation Secretary Pete Buttigieg, and Tunde Oyeneyin of Peleton fame.
"It was the night of a lifetime, to be honest," Dr. Neidlinger said.
The celebration—dubbed "A Night When Hope & History Rhyme" in reference to Seamus Heaney's poem "The Cure at Troy"—was held to honor Elton John and the roughly 2,000 guests whom the White House called "everyday history-makers" for their advocacy work supporting equal rights for lesbian, gay, bisexual, trans, and queer+ people. Drs. Neidlinger and Marsh were invited to attend because of their activism on behalf of the LGBTQ+ family rights organization Family Equality.
"Our involvement with Family Equality was primarily advocating for the Respect for Marriage Act," Dr. Neidlinger explained. "The RFMA acknowledges the validity of same sex marriages across the nation by upholding the Obergefell decision of 2013, which allowed families like ours recognition and the ability to be legally married." In fact, the U.S. Congress recently passed the RFMA, and President Biden signed it into law on Dec. 13, 2022.
Dr. Neidlinger's advocacy skills also come in handy in her role as the Associate Medical Director of Organ and Tissue Donation for UW Health, where she works to raise awareness about the need for more organ donation. In August 2022, she was instrumental in bringing to University Hospital in Madison, WI, an art exhibit highlighting the importance of increasing diversity in the donor community. Read more about the exhibit.
When asked what it meant to her to be a part of that evening in D.C., Dr. Neidlinger shared, "It felt like a dream. Elton John and his grand piano in the round on the White House Lawn with the Armed Forces bands playing for us in formal attire… it was pageantry and gorgeous and amazing! And while we met a handful of 'famous' people, the vast majority of the attendees seemed like everyday people who were just as shocked as we were to find themselves in this surreal venue experiencing this night."
She continued, "So many of the attendees were activists, educators, health care professionals and 'everyday' heroes. President Biden introduced the night by letting us know that he and Dr. Jill Biden felt the White House was and is and should be the house of the people, and that coming out of the pandemic they wanted to celebrate the people. It felt like the world's greatest thank you!"