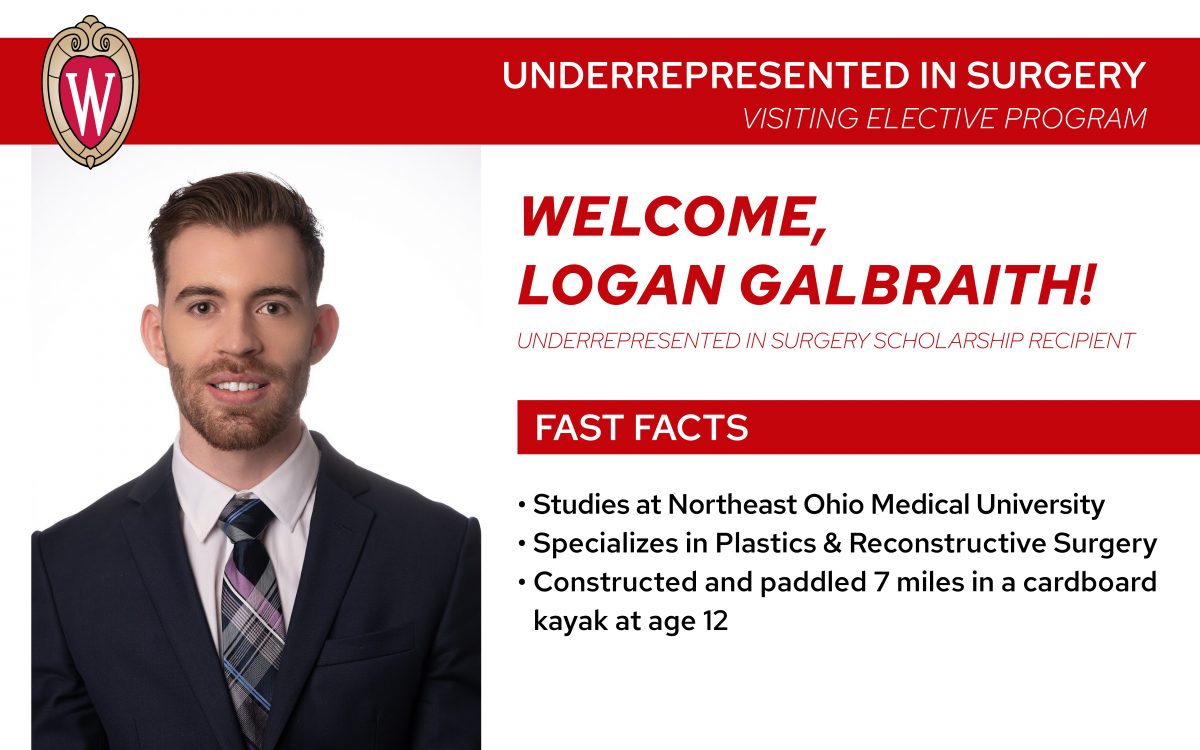 The School of Medicine and Public Health and Department of Surgery is committed to being a diverse, equitable, inclusive, and anti-racist learning environment and workplace. The Underrepresented in Medicine (URiM) Visiting Student Scholarship Program, sponsored by the Department of Surgery, supports qualified 4th year medical students from underrepresented backgrounds in medicine in developing their clinical skills, abilities, and potential through a visiting rotation, mentorship, and networking opportunities.
Logan Galbraith thought that turning his passion for creativity into a career was outside the boundaries of medicine. However, during an undergraduate anatomy course, he became interested in plastic surgery.
"I discovered that plastic surgery allows a physician to provide compassionate care while also using creative talents," Galbraith said.
During his time at the Northeast Ohio Medical University College of Medicine, Galbraith's interest in creativity was reinforced. In an effort to save money after graduation, Galbraith decided to renovate a house to live in during his third and fourth years. He learned a lot about himself and his love for creativity during this project. Galbraith said, "I found that when I'm being creative, I am happier and more productive in all aspects of my life."
As an Ohio native, Galbraith was drawn to the URiM program at the University of Wisconsin-Madison because of his love for the Midwest and his desire to live in a city with a diverse community. He believed that Madison offered the perfect balance of nature and local charm while also giving him the resources he needed to thrive.
"I am eager to learn from those who have so much experience and wisdom and yet are passionate about education," Galbraith said.
He was excited to participate in the URiM program and expand his knowledge. Being a part of this program gave Galbraith the opportunity to learn from experts in the field of plastic surgery.
Galbraith hopes to provide compassionate care to his patients and incorporate the most innovative approaches and technologies throughout his career.