Cardiovascular disease is the leading cause of mortality and morbidity in the United States. While coronary heart disease accounts for approximately 50% of cardiovascular related death, the prevalence of peripheral arterial disease is on the rise. It is estimated that in 2030, the number of patients requiring peripheral vascular interventions will approach 2 million.
Despite its high prevalence, experimental investigation related to peripheral vascular disease has been sparse compared to coronary disease. This factor is largely responsible for the current limited treatment options available for patients with peripheral atherosclerosis and aneurysms. The mission of our NIH-funded multidisciplinary and collaborative training program is to produce future surgeons, scientists and engineers who will meet the need for innovation in methods to prevent and treat vascular disease.
We believe that a T32-funded training program offers the most efficient and effective approach to multidisciplinary training. With over twenty faculty trainers whose expertise ranges from basic vascular biology to vascular surgery to drug targeting, we provide trainees with both basic and clinical research opportunities in Vascular Biology, Drug Delivery, and Vascular Outcomes and Health Services Research. We emphasize a collaborative training model that allows trainees to interact with faculty mentors and fellow trainees in and outside the laboratory.
An important advantage of this T32-funded training program is that it will allow us to engage surgical/medical residents and fellows at a critical time, early in their training, when it is still possible to direct them toward a lifelong career in research. The decline in the number of physician scientists in the United States since the mid-1980s is well understood and many organizations have initiated targeted programs to address this concerning trend. T32-funded training programs have been proven to be effective in proving individuals who possess the knowledge and training to cross effortlessly between the bench and the bedside.
Whereas surgeons have the knowledge required to advance clinical treatments, scientists and engineers also bring a unique perspective and expertise to vascular research. Thus, enhancing interactions between scientists, engineers, and surgeons is mutually beneficial and offers the greatest likelihood for true advancements and discoveries. This is the logic behind the development of a training program that includes both MDs and PhDs.
The University of Wisconsin is an outstanding partner for this type of program as it offers a strong tradition of vascular surgery training with a fellowship since 1999 and an integrated residency since 2009. Additionally, the volume of complex vascular cases, our capacity as a regional referral center, the diversity of experience among our faculty, and the strong collaborative relationship between the surgery program, the Division of Cardiovascular Medicine, and the Cardiovascular Research Center ensure a research experience at the cutting edge of vascular medicine.
We feel that such a model of integration and collaboration will be the genesis of a robust research program in vascular disease that will provide the highest likelihood of improving care for vascular patients.
UW Vascular Surgery Research Training Program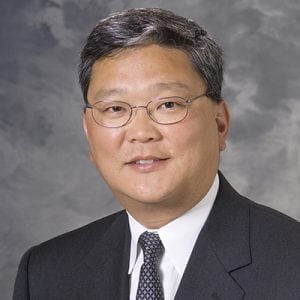 Jon Matsumara, MD
Program Director
Bo Liu, PhD
Program Co-Director