Collaboration has increased substantially over the last two decades. From 1988 to 2005 the productivity of papers produced by authors from multiple institutions has increased from 40% to 61%. Domestic collaboration has also increased from 32% to 41%, and international collaboration has increased 12 percentage points, from 8% to 20% over the same time period.1 In 2007, 26.4% of United States-based publications were the result of international collaboration.2 While the number of internationally authored articles has increased linearly, the number of international addresses has grown exponentially, suggesting more institutions are becoming involved.3 In 2006, 58% of U.S. scientists participated in collaboration and 29% worked with individuals outside of the United States. Collaboration was especially prominent in the life sciences arena with nearly 80% of these researchers reporting some collaboration.1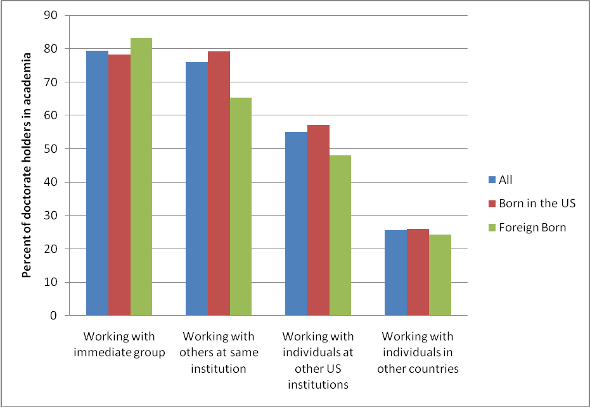 Many individuals come to the United States for education. In 2007, foreign students received 4% of bachelor's degrees, 24% of master's degrees and 33% of doctoral degrees granted in the U.S. Most (greater than 75%) foreign doctorates remain in the United States after earning his or her degree. Of the postdoctoral students employed in 2006, 57% were on temporary visas.1
Life sciences doctorate holders employed in academia by position and citizenship (2006)1
Position
All Positions
Research as primary or secondary work activity
All
Native-born U.S. Citizen
Naturalized U.S. Citizen
Non-citizens
All
Native-born U.S. Citizen
Naturalized U.S. Citizen
Non-citizens
All
95.5
75.2
10.1
10.2
66.7
49.8
8.0
8.9
Full-time Faculty
64.5
53.7
7.1
3.7
45.1
36.0
5.8
3.2
Postdoc
12.8
7.1
0.8
4.9
11.9
6.6
0.7
4.7
Other
18.2
14.4
2.2
1.6
9.7
7.1
1.5
1.1
Sources
1 National Science Board (2010). Science and Engineering Indicators 2010. Washington DC: National Science Board; available at http://www.nsf.gov/statistics/seind10/. Last accessed January 20, 2010.
2 Kamalski J (2009). Small countries lead international collaboration. Research Trends. Available at http://info.scopus.com/researchtrends/cou_tre_14.html. Last accessed January 6, 2010.
3 Leydesdorff L, Wagner CS (2008). International collaboration in science and the formation of a core group. J Informetrics. 2:317-325.