Services are oriented toward providing investigators with data suitable for use in a grant proposals or manuscripts. Staff works with clients to assess their needs and provide the appropriate level of technical and scientific assistance. In addition to the techniques listed below, other techniques may be available upon request.
Models of Intravital Microscopy
Intravital microscopy represents an internationally accepted and sophisticated experimental method to study angiogenesis, microcirculation, and many other parameters in a wide variety of neoplastic and non-neoplastic tissues. Because angiogenesis is an active and dynamic process, one of the major strengths of chamber models is the possibility of monitoring angiogenesis in vivo continuously for up to several weeks with high spatial and temporal resolution. In addition, after the termination of experiments, tissue samples can be excised easily and further examined by various in vitro methods, such as histology, immunohistochemistry, and molecular biology.
We offer:
Mouse Dorsal Skin Fold Chamber
Rat Dorsal Skin Fold Chamber

MRI

 Compatible Dorsal Skin Fold Chamber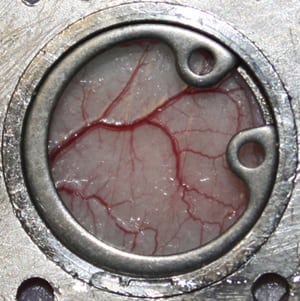 Models of Heterotopic Heart Transplant
We offer:
Rat heterotopic heart transplant
Models of Lung Transplant
We offer:
Representative Projects for the Skin Fold Chamber Model
Myocardial Tissue Engraftment
Mouse dorsal skin fold chamber is used to observe survival of ectopic neonatal atrial and ventricular tissue transplantation and monitoring angiogenesis in vivo.
Stem Cell Survival
Adult cardiac stem cells are implanted in the dorsal chamber and their survival is investigated.
Mouse neonatal atrial tissue implanted in the mouse dorsal skin fold chamber shown 16 days after engraftment. New blood vessel formation was observed and quantified.
Echo movie of the same tissue.
For More Information, Please Contact:
Entela Lushaj, MD, PhD
Director of Research
(608) 263-5221
lushaj@surgery.wisc.edu
H4/337 CSC
600 Highland Ave
Madison WI, 53792