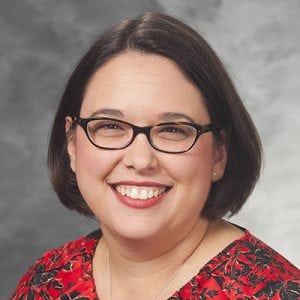 Angela M. Ingraham, MD, MS, FACS
Scientist II
Angela Ingraham, MD, MS, is a Scientist with the Wisconsin Surgical Outcomes Research Program at the University of Wisconsin-Madison Department of Surgery. Dr. Ingraham completed medical school at Loyola University Chicago Stritch School of Medicine. She then pursued a general surgery residency at the University of Cincinnati. During her professional development time in residency, she successfully completed the competitive two-year American College of Surgeons Clinical Scholar in Residence Program where she earned her Master of Science in Clinical Investigation at Northwestern University. She is fellowship trained in Acute Care Surgery (University of Pittsburgh).
Dr. Ingraham's health services research program focuses on improving care and outcomes of emergency general surgery (EGS) patients, particularly among those who are transferred between acute care facilities. Dr. Ingraham has been funded by the Agency for Healthcare Research and Quality through a Career Development Award (5K08HS025224-05). Through this award, Dr. Ingraham led her multi-disciplinary research team to:
Map the current system of interhospital EGS transfers in Wisconsin and measure the association between the "strength of ties" (i.e., number of shared patients) and patient outcomes
Explore the relationships and communication between referring and accepting providers involved in interhospital EGS transfers to better understand how they impact coordination of care
Engage key stakeholders in a collaborative effort to prioritize targets and design a toolkit to improve initial communication about interhospital EGS transfers
Her current National Institute on Aging-funded research (5R03AG078889-02) aims to standardize communication about transfer decisions by developing and pilot-testing an intervention to Support Interhospital Transfer Decisions (SITe) that is specific to the needs of older EGS patients and utilizes extant transfer processes.
To see the checklist that Dr. Ingraham's research team created for conversations regarding interhospital transfers of older emergency general surgery patients, click here.
Angela Ingraham, MD, MS, FACS Professional Biography
ingraham@surgery.wisc.edu
(513) 833-5205
Education
Acute Care Surgery Fellowship, University of Pittsburgh School of Medicine, Pittsburgh, PA, 2015
General Surgery Residency, University of Cincinnati College of Medicine, Cincinnati, OH, 2013
MS in Clinical Investigation, Northwestern University, Evanston, IL, 2010
MD, Loyola University Chicago Stritch School of Medicine, Maywood, IL, 2006
BS in Biology, Truman State University, Kirksville, MO, 1997-2002
Honors
Graduated with Honors in Biology from Truman State University, Summa cum Laude, and as Valedictorian
Board Certification | Critical Care | American Board of Surgery | 2014-2025
Board Certification | General Surgery | American Board of Surgery | 2013-2024