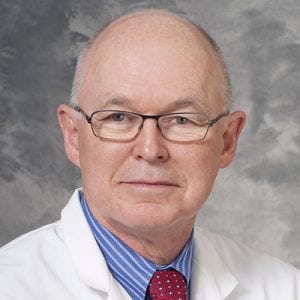 Charles W Acher, MD
Professor
Division of Vascular Surgery
acher@surgery.wisc.edu
(608) 265-4420
600 Highland Avenue
Box 7375 Clinical Science Center
Madison, WI 53792-3284
Education
MD, Indiana University Medical School, Indianapolis, IN, 1973
Internship and Residency, University of Wisconsin Hospital and Clinics, Madison, WI, 1973-1978
Fellow, GI and Peripheral Vascular Surgery, Gloucestershire Royal Hospital, Gloucester, England, 1978-1980
Instructor in Vascular Surgery, University of Wisconsin Hospital and Clinics, Madison, WI, 1981-1982
Peripheral Vascular Fellow, Baylor College of Medicine, Houston, TX, 1982-1983
Clinical Specialties
Dr. Acher is certified by the American Board of Surgery, with a certificate of additional qualifications in vascular surgery. His clinical interests include prevention of ischemic spinal cord injury in repair of thoraco-abdominal aneurysms (TAA), renal and visceral arterial occlusive disease, minimally invasive endovascular surgery, treatment of cerebral vascular occlusive disease for stroke prevention (carotid and subclavian revascularization), and limb salvage in severe vascular disease.
Dr. Acher provides a wide range of services including Abdominal Aortic Aneurysm (AAA) Repair – Endovascular, Abdominal Aortic Aneurysm (AAA) Repair – Open, Amputation, Angioplasty With Stent Placement, Carotid Endartecotomy, Carotid Stenting, Compartment Syndrome Treatments, Extended Efforts in Limb Salvage, Peripheral Artery Bypass, Thoracic Aortic Aneursym – Endovascular, Thoracic Aortic Aneursym – Open, Thoracic Outlet Syndrome Treatment, Varicose Vein Treatment.
Research Interests
Dr. Acher's current research activities include participation in a VA cooperative study on aneurysm detection and management, research in treatment of thoracoabdominal aneurysm, and prevention of paraplegia in thoracic aneurysm surgery.
Recent Publications