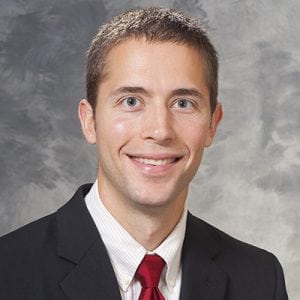 Specialties
David Upton, MD, FACS
Associate Professor
Division of Otolaryngology-Head & Neck Surgery
upton@surgery.wisc.edu
(608) 287-2500
1 S. Park Street
Madison, WI 53715-1375
Education
MD, University of Wisconsin-Madison, Madison, WI, 2006
Residency, Otolaryngology-Head and Neck Surgery, UW Hospital and Clinics, Madison, WI, 2011
Clinical Specialties
Dr. Upton is board certified by the American Board of Otolaryngology-Head and Neck Surgery. His clinical practice comprises all aspects of pediatric and adult general otolaryngology including sinonasal disorders, ear surgery, sleep medicine and surgery, pediatrics, laryngology, and head and neck surgery.
Dr. Upton provides a wide range of services including Adenoidectomy, Fine Needle Aspiration (FNA), Intraoral Biopsy, Nasal Cautery, Needle Biopsy of Neck Mass, Oral Appliances, Parotidectomy, Placement of Myringotomy and Tympanostomy Tube, Removal of Nasal and Ear Foreign Bodies, Simple Cutaneous and Facial Biopsy, Sinus Surgery, Sleep Apnea Surgery, Tonsillectomy, Tracheostomy.
Research Interests
Dr. Upton's research interests include chronic rhinosinusitis, office-based procedures of the head and neck, and treatment of obstructive sleep apnea.
Recent Publications