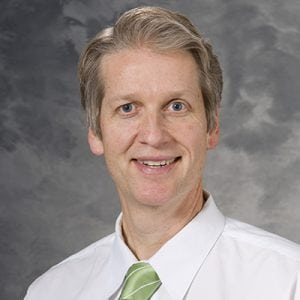 G. Mark Pyle, MD
Professor
Academic Vice Chairman
Chief of Otology/Neurotology Section
Division of Otolaryngology-Head & Neck Surgery
pyle@surgery.wisc.edu
(608) 262-8693
600 Highland Ave
K4/718
Madison, WI 53792-3284
Education
MD, University of Wisconsin Medical School, Madison, WI, 1984
Residency, University of Wisconsin Hospital and Clinics, Madison, WI, 1984-1989
Fellow, Neurotology and Skull-base Surgery, Chicago Otology Group, Ltd., Chicago, IL, 1989-1991
Clinical Specialties
Dr. Pyle is double board certified by the American Board of Otolaryngology-Head and Neck Surgery and the American Board of Neurotology. He specializes in otology, neurotology, and lateral skull base surgery. Specialty areas include: disorders of the ear, facial nerve and balance disorders, restoration of hearing and cochlear implantation, and skull base tumor surgery.
Dr. Pyle provides a wide range of services including Acoustic Neuroma Removal, Bone-Anchored Hearing Aids (BAHA), Cochlear Implants, Congenital Atresia of the Ear Canal and Middle Ear, Endolymphatic Sac Decompression, Facial Nerve Grafting, Gentamicin Titration, Labyrinthectomy or Vestibular Neurectomy, Mastoidectomy, Mastoid Obliteration, Ossiculoplasty, Removal of Tumors and Vascular Lesions of the Middle and Posterior Skull Base and Brain, Posterior Semicircular Canal Occlusion, Skull Base Surgery, Stapedectomy, Superior Semicircular Canal Dehiscence, Tympanoplasty.
Research Interests
Dr. Pyle is currently the PI on two studies on vestibular retraining for visual vertigo. Dr. Pyle's research interests include new techniques in intraoperative monitoring during acoustic neuroma surgery, outcome studies in the surgical treatment of vertigo, objective measurements of middle ear function, and embryologic development of the inner ear.
Recent Publications