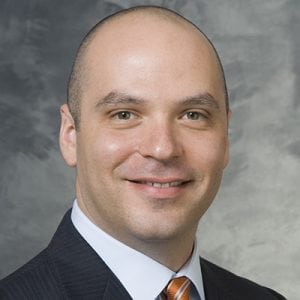 Jacob A. Greenberg, MD, EdM, FACS
Associate Professor
Program Director, General Surgery Residency Program
Division of Minimally Invasive Surgery
greenbergj@surgery.wisc.edu
Clinic: (608) 263-7502
Administrative Assistant: (608) 263-1036
600 Highland Ave
MC 7375
Madison, WI 53792-3284
Education
MD, University of Pennsylvania School of Medicine, Philadelphia, PA, 2003
EdM, Harvard Graduate School of Education, 2007
General Surgery Residency, Brigham and Women's Hospital, Boston, MA, 2010
Minimally Invasive Surgical Fellowship, University of Massachusetts Memorial Medical Center, Worcester, MA, 2011
Clinical Specialties
Dr. Greenberg is fellowship trained in Minimally Invasive and Bariatric Surgery and is board certified in General Surgery. He is a member of the Society of American Gastrointestinal and Endoscopic Surgeons, the Association for Academic Surgery, and the American College of Surgeons. He specializes in minimally invasive techniques for surgery of the stomach and esophagus as well as bariatric surgery. In addition, he uses minimally invasive techniques to treat inguinal and ventral hernias and disorders of the gallbladder.
Dr. Greenberg provides a wide range of services including Appendectomy, Cholecystectomy (Gallbladder Removal), Laparoscopic Adjustable Gastric Band, Laparoscopic and Robotic Gastrectomy, Laparoscopic and Robotic Heller Myotomy, Laparoscopic and Robotic Nissen Fundoplication, Laparoscopic and Robotic Paraesophageal Hernia Repair, Laparoscopic Revisional Bariatric Surgery, Laparoscopic Roux-en-Y Gastric Bypass, Laparoscopic Vertical Sleeve Gastrectomy, LINX Reflux Management System for GERD, Open and Laparoscopic Hernia Repair, Peroral Endoscopic Mytomy (POEM), Transoral Incisionless Fundoplication (TIF) , Ventral / Abdominal Hernia Repair.
Research Interests
Dr. Greenberg's research focuses on surgical education (including simulation training), clinical research in hernia care, and procedural adoption of new techniques and technologies.