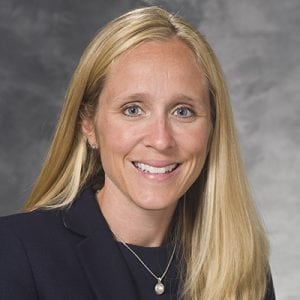 Specialties
Jessica Van Beek-King, MD
Assistant Professor
Section of Pediatric Otolaryngology
Division of Otolaryngology-Head & Neck Surgery
vanbeekj@surgery.wisc.edu
(608) 265-8207
Clinical Sciences Center
600 Highland Avenue
Madison, WI 53792-7375
Education
MD, Ross University School of Medicine, Dominica, West Indies, 2010
Residency, Georgia Regents University, Department of Otolaryngology, Augusta, Georgia, 2010-2015
Fellowship, Lurie Children's Hospital of Chicago, Chicago, Illinois, 2015-2016
Clinical Specialties
Dr. Van Beek-King is certified by the American Board of Otolaryngology-Head and Neck Surgery. She practices the full spectrum of pediatric otolaryngology, including management of pediatric ear disease and hearing loss, airway and swallowing disorders, neck masses, and sinus disease.
Dr. Van Beek-King provides a wide range of services including Adenoidectomy, Airway Reconstruction, Bronchoscopy, Choanal Atresia Repair, Cholesteatoma Excision, Cochlear Implants, Endoscopic Ear Surgery, Endoscopic Sinus Surgery, Functional Neck Dissection, Laryngeal Papilloma Laser Treatment, Laryngoscopy, Laryngotracheal Reconstruction, Laser Procedures, Lymphovascular Malformation Excision, Mastoidectomy, Neck Mass Excision, Ossiculoplasty, Parotidectomy, Septoplasty, Thyroidectomy, Tonsillectomy, Tracheostomy, Tympanoplasty, Tympanostomy (Ear) Tube Placement.
Research Interests
Dr. Van Beek-King has research interests in pediatric hearing loss and cochlear implantation, treatment of congenital neck masses, airway reconstruction, and student and resident education.
Recent Publications