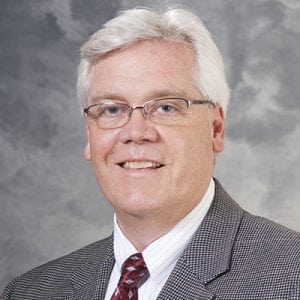 John R Hoch, MD
Professor
Division of Vascular Surgery
hoch@surgery.wisc.edu
(608) 265-4420
600 Highland Ave.
MC 7375
Madison, WI 53792-3284
Education
MD, Jefferson Medical College, Philadelphia, PA, 1983
Internship and Residency, Thomas Jefferson University, Philadelphia, PA, 1983-1989
Fellow, American Heart Association, Thomas Jefferson University, Philadelphia, PA, 1986-1987
Fellow, Vascular Surgery, University of Missouri-Columbia, Columbia, MO, 1989-1991
Clinical Specialties
Dr. Hoch is certified by the American Board of Surgery, with a certificate of additional qualifications in vascular surgery. He is the Program Director for Vascular Surgery Integrated Residency and Fellowship Programs. Dr. Hoch has special interests in complex aortic disease, visceral artery occlusive disease, carotid artery reconstruction, repair of thoracoabdominal aneurysms, and the use of endovascular techniques to repair abdominal and thoracic aortic aneurysms and manage patients with lower extremity arterial occlusion.
Dr. Hoch provides a wide range of services including Abdominal Aortic Aneurysm (AAA) Repair – Endovascular, Abdominal Aortic Aneurysm (AAA) Repair – Open, Amputation, Angioplasty With Stent Placement, Carotid Endartecotomy, Carotid Stenting, Extended Efforts in Limb Salvage, Peripheral Artery Bypass, Thoracic Aortic Aneursym – Endovascular, Thoracic Aortic Aneursym – Open, Thoracic Outlet Syndrome Treatment, Varicose Vein Treatment.
Research Interests
Dr. Hoch is the Chair of the UW Venous Thrombolytic Taskforce. His research focuses on utilizing a systems approach to decrease the incidence of venous thromboembolism and improve patient outcomes. He also has research interests in the care of patients with venous hypertension, varicose veins disease and pelvic congestion syndrome. His research efforts are also focused on the role of vascular surgeons in risk factor modification of patients with peripheral arterial disease.
Recent Publications