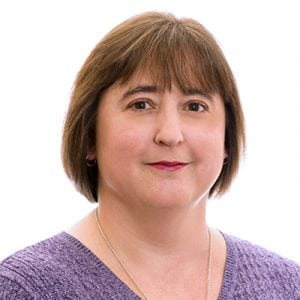 Kate Cronin
Associate Researcher
Kate is a health educator and research coordinator specializing in obesity prevention and weight maintenance research. Her previous work was with a community-based participatory clinical trial research/intervention partnering with 5 American Indian communities across the United States. She has a background in nutrition and physical activity curriculum development, qualitative research methods and the use of social media and text message campaigns in health education interventions. Outside of work, Kate enjoys cooking, reading and gardening. She is currently an Associate Researcher with the Wisconsin Surgical Outcomes Research Program, where she works with Corrine Voils.
cronin@surgery.wisc.edu
(608)265-7835
K6/167
Education
MPH, International Health, Emory University, 1998
BA, Interdisciplinary Studies, American University, 1994
Honors
Selected Publications:
Tomayko EJ, Mosso KL, Cronin KA, Carmichael L, Kim K, Parker T, Yaroch AL, Adams AK.  Household food insecurity and dietary patterns in rural and urban American Indian families with young children. BMC Public Health. 2017 Jun 30;17(1):611.
Tomayko EJ, Prince RJ, Cronin KA, Parker T, Kim K, Grant VM, Sheche JN, Adams AK. Healthy Children, Strong Families 2: A randomized controlled trial of a healthy lifestyle intervention for American Indian families designed using community-based approaches. Clin Trials. 2017 Apr; 14(2):152-161