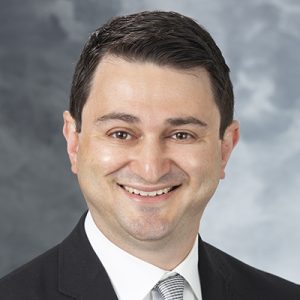 Specialties
Michael Gorelik, MD
Assistant Professor
Division of Otolaryngology
gorelik@surgery.wisc.edu
608-262-7181
K4/763
600 Highland Ave
Madison, WI 53792
Education
MS, Johns Hopkins University, Biotechnology, 2010
MD, Tufts University School of Medicine, 2015
Resident, University of Ilinois Chicago, Otolaryngology, 2020
Fellowship, Ann & Robert H. Lurie Children's Hospital of Chicago, Pediatric Otolaryngology, 2021
Clinical Specialties
Dr. Gorelik specializes in pediatric otolaryngology with a focus on complex pediatric airway and aerodigestive problems, management of congenital and malignant head and neck lesions, and hearing loss.
Dr. Gorelik's expertise includes excision of thyroglossal duct cysts, branchial cleft anomalies, submandibular gland removal, parotidectomy, thyroidectomy, neck dissection, and management of lymphovascular malformations.
He treats the entire spectrum of airway and sleep related problems. He performs the following procedures: adenotonsillectomy, refractory sleep surgery, tongue base suspension, supraglottoplasty, epiglottopexy, endoscopic and open laryngotracheal reconstruction, slide tracheoplasty and tracheal resection.
Dr. Gorelik provides a wide range of services including Septoplasty, Sinus Surgery, Airway Dilation, Laser Procedures, Tracheostomy, Tracheal Resection, Parotidectomy, Thyroidectomy, Placement of Myringotomy and Tympanostomy Tube, Tympanoplasty, Endoscopic Ear Surgery, Mastoidectomy.
Research Interests
Dr. Gorelik's interests include laryngotracheal reconstruction, novel treatment of laryngeal edema, device development, and surgical education.
Recent Publications