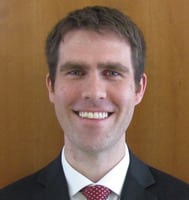 Michael Nabozny, MD
General Surgery Resident
Michael Nabozny, MD is currently a general surgery resident at the University of Wisconsin. He graduated from the University of Maryland in 2004 and the University of Rochester with an MD in 2011. He spent 2½ years in northern Namibia as a Peace Corps volunteer teacher in a small rural village teaching mathematics and science prior to medical school.
Michael spent his two research "lab" years under the mentorship of Dr. Margaret "Gretchen" Schwarze, a University of Wisconsin vascular surgeon and leading figure in the field of surgical ethics and qualitative research. His research focuses on three main areas: (1) exploring the unique commitment, termed "surgical buy-in," that surgeons feel toward patients to ensure an acceptable outcome after surgery, (2) introducing a novel communication tool to improve preoperative decision-making in surgical practice before high-risk surgery, and (3) using a large Medicare database to quantify outcomes of high-risk surgery in older adults. He was also fortunate to complete an ethics fellowship at the University of Chicago MacLean Center for Clinical Medical Ethics during his research time.
Michael enjoys spending time in Madison and the greater Midwest with his wife and young son, following the University of Maryland basketball team and running the occasional 5K to half-marathon.
Education
MD, University of Rochester School of Medicine and Dentistry, Rochester, NY, 2011
BS, University of Maryland, College Park, Maryland, 2004