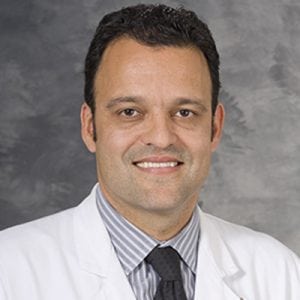 Specialties
Nilto De Oliveira, MD
Professor
Director, Aortic Surgery
Director, Lung and Heart/Lung Transplant
Section of Cardiac Surgery
Division of Cardiothoracic Surgery
oliveira@surgery.wisc.edu
(608) 263-0439
600 Highland Ave.
MC3236
Madison, WI 53792-3236
Education
MD, Universidade Federal do Parana, Curitiba, Brazil
General Surgery Residency, Hartford Hospital, University of Connecticut
Cardiac Surgery Research, Myocardial protection laboratory, Massachusetts General Hospital, Harvard University
Cardiothoracic Surgery Residency, Barnes Hospital, Washington University
Adult Cardiac Surgery Fellowship, The Toronto Hospital, University of Toronto
Congenital Cardiac Surgery Fellowship, The Hospital for Sick Children, University of Toronto
Clinical Specialties
Dr. De Oliveira is certified by the American Board of Surgery, the American Board of Thoracic Surgery and the Royal College of Surgeons of Canada. He has been in practice at UW Hospital for the past 15 years. Dr. De Oliveira has built a regional reputation for outstanding cardiac surgery outcomes. His practice comprises all aspects of adult cardiothoracic surgery with special interest in aortic surgery and aneurysms, aortic root reconstruction procedures, valve sparing aortic root replacement, Marfan syndrome, mitral valve repairs, mitral valve surgery, redo cardiac surgery operations, patients in need of multiple valve procedures, management of infective endocarditis with interest in intracardiac reconstructive procedures including reconstruction of the intervalvular fibrous body, and use of cadaveric aortic homografts for complex aortic root surgery.
Dr. De Oliveira provides a wide range of services including Surgical aortic valve replacement (SAVR); Aortic root replacement and repair; Aortic Aneurysm repairs; Valve sparing aortic root replacement (David Procedure); Total aortic arch replacement, elephant trunk procedures; Coronary revascularization (CABG); Mitral valve repairs; Mitral valve replacement; ASD closure; Redo cardiac surgery operations; Multiple valve procedures; Redo multiple cardiac valve procedures; Removal of intracardiac tumors; Transcutaneous aortic valve replacement (TAVR); Surgery for infective endocarditis; Complex intracardiac reconstruction.
Research Interests
Dr. De Oliveira's research interests include myocardial protection, intracardiac fibrous body anatomy and reconstructive procedures, infective endocarditis, effects of the new LAS score on lung transplantation, use of DCD donors lung donation and extended criteria organs, and ex vivo lung perfusion systems for donor lungs grafts recovery.
Recent Publications