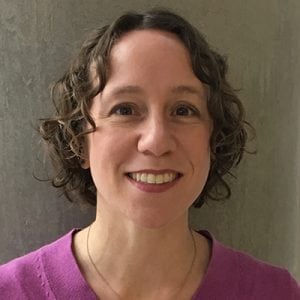 Education
BS, Pennsylvania State University, State College, PA, 2002
MA, The Ohio State University, Columbus, OH, 2004
PhD, Simon Fraser University, Vancouver, BC, 2010
Research Interests
Stephanie is a social scientist and geographer with expertise in qualitative research methodologies and geographic information science. She develops, conducts, and analyzes qualitative research, focusing on semi-structured interviews, focus groups, surveys, and stakeholder engagement. She also has an expertise in participant observation and document analysis. Additionally, Stephanie is trained in geographic information science and is excited about its applications to the health science research field.
Stephanie has been integral to a wide range of research projects: homeless service provision in redeveloping urban neighborhoods, livable neighborhoods and their reconstruction, harm reduction drug policy and policy transfer, state of aging in industrial cities. She has also taught numerous university courses ranging from social science methodology to world geography to urban development.
In May 2015, Stephanie joined the Wisconsin Surgical Outcomes Research Program (WiSOR) where she focuses on research projects to reduce hospital readmissions of complex abdominal surgical patients. Stephanie is involved in the efforts to adapt a telephone-based transitional care program for the specific needs of these surgical patients. At WiSOR, Stephanie works primarily with Sharon M. Weber and her research team.
Grants
Title: Incorporating the Patient Perspective to Reduce Readmission after Complex Surgery
Division within the department: General Surgery
Funding agency: NIH
PI: Sharon M. Weber
Project summary: This research project seeks to understanding the causes for patients undergoing complex abdominal surgery to be readmitted to hospital readmission from the patient's perspective in order to create a tool that will help to decrease readmissions and improve patient-centered outcomes.
End date: 07/31/2016
Title: Improving Patient-Centered Transitional Care for Surgical Pancreas Cancer Patients
Division within the department: General Surgery
Funding agency: UW CCC (University of Wisconsin Carbone Cancer Center)
PI: Sharon M. Weber
Project summary: This research project seeks to explore the transitional care needs of patients and caregivers after hospital discharge. The Coordinated Transitional Care Program will be adapted for the specific needs of surgical patients, creating the surgical Coordinated Transitional Care Program (sC-TraC), which will be implemented and evaluated.
End date: 06/30/2017