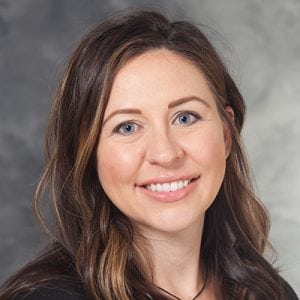 Specialties
Tiffany A. Glazer, MD
Associate Professor
Residency Program Director
Division of Otolaryngology-Head & Neck Surgery
glazer@surgery.wisc.edu
Office: (608) 265-8207
Clinical Appointments: (608) 263-6190
Education
MD, University of Wisconsin School of Medicine and Public Health, Madison, WI, 2011
Residency, Department of Otolaryngology – Head and Neck Surgery, University of Michigan; Ann Arbor, MI, 2016
Fellowship in Head & Neck Oncology and Microvascular Reconstructive Surgery, Department of Otolaryngology – Head and Neck Surgery, University of Michigan; Ann Arbor, MI, 2017
Clinical Specialties
Dr. Glazer is certified by the American Board of Otolaryngology-Head and Neck Surgery and is a member of the American Head and Neck Society. She is fellowship-trained in both head and neck oncology and microvascular reconstruction. Her specific areas of expertise include: head and neck cancer (all mucosal, upper aerodigestive tract, anterior skill base, and skin), reconstruction (both free tissue transfer and local flaps), Mohs reconstruction, neck mass, thyroid mass, and parotid mass. She also specializes in robotic surgery, laser surgery, and facial trauma.
Dr. Glazer provides a wide range of services including Airway Dilation, Airway Reconstruction, Endoscopic Partial Laryngectomy, Esophageal Dilation, Facial Nerve Repair, Fine Needle Aspiration (FNA), Free Flap, Free Tissue Transfer, Functional Neck Dissection, Laryngeal Surgery, Laser Procedures, Leukoplakia Laser Treatment, Maxilofacial Trauma Repair, Open Partial Laryngectomy, Parotidectomy, Repairs Of Skull Base Defects, Skin Cancer Reconstruction, Skull Base Surgery, Thyroid Lobectomy, Thyroid Surgery, Total Laryngectomy, Total Thyroidectomy, Tracheostomy, Transnasal Esophagoscopy (TNE), Transoral Robotic Surgery, Zenker's Diverticulectomy.
Research Interests
Dr. Glazer conducts outcomes research in head and neck cancer patients and is highly invested in training the next generation of head and neck cancer surgeons.
Recent Publications