Everyone. Every time. Everywhere.
In order to provide remarkable healthcare for everyone in our community, we are committed to fostering a diverse and inclusive community throughout all aspects of our work.
W
e are committed to the mission, vision and values shared by both UW Health and the UW School of Medicine and Public Health. At the core of these values and goals is the constant endeavor toward excellence in all that we do and toward fostering a culture of inclusion and respect among our patients, employees, learners, and the communities we serve. Through teaching, discovery and advocacy, we hope to promote equity in access to quality health care. We aim to serve Everyone, Every time, Everywhere.
We also strongly believe in the significance of servant leadership. Our providers and staff understand the importance of community health and seek to improve the lives of the citizens of Madison, WI and beyond by engaging directly with the community, particularly under-served populations.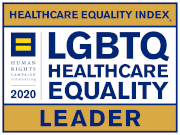 Our clinical sites at University Hospitals and Clinics and the American Family Children's center are recognized as "Leaders in LGBT Healthcare Equality" in the Healthcare Equality Index 2020 report. The annual survey is conducted by the Human Rights Campaign Foundation, the educational arm of the country's largest lesbian, gay, bisexual and transgender (LGBT) organization. The American Family Children's Hospital has earned top marks for the last five years for its commitment to equitable, inclusive care for LGBT patients and their families, who can face challenges in accessing adequate healthcare.
To learn more about our engagement and development initiatives with low-resource populations internationally, please visit our Global Surgery webpage.
---
For Applicants
The School of Medicine and Public Health is committed to being a diverse, equitable, inclusive and anti-racist workplace and is an Equal Employment Opportunity, Affirmative Action employer. Applications from Black, Indigenous and People of Color (BIPOC) individuals, LGBTQ+ and non-binary identities, women, persons with disabilities, military service members and veterans are strongly encouraged.
---
Department of Surgery DEI News
When Jasmine Peters, participant in the Underrepresented in Surgery (URS) Visiting Elective Program, thought about the experiences that inspired her medical career, multiple memories flashed through her mind. An extra level of care for others …

October 26, 2021