We strive to create an inclusive, collaborative and connected culture that fosters cutting-edge basic, translational, education, and health outcomes research. Our research programs investigate the underlying mechanisms of disease, translate discoveries in the laboratory to clinical trials, and offer experimental options with the goal of improving patient care. Our research funding portfolio exceeds $18 million annually with a large percentage from the National Institutes of Health.
---
Latest Research News
In a study published in Science Translational Medicine and led by professor of surgical oncology Muhammed Murtaza, MBBS, PhD, researchers used a machine-learning model to examine blood plasma for DNA fragments from cancer cells. The technique, …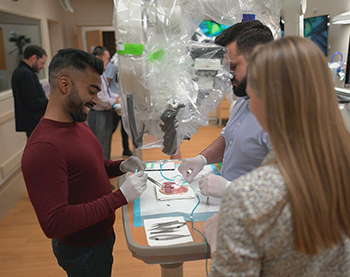 Provides coordinator and regulatory support for all types of human subjects research including sponsored clinical trials, survery studies, registries, and chart reviews.
The UW Department of Surgery Histology Core facility, located at H4/337 in the Clinical Science Center, provides Histology services to clinical and basic science researchers associated with the Department of Surgery.
The Humanized Mouse Core at the University of Wisconsin–Madison provides investigators with a variety of humanized mouse models for their individual research needs.
Provides faculty, researchers, and residents/fellows/students with comprehensive statistical and research programming support for their research activities including study design, grant application, abstract/manuscript review, statistical analysis, programming and results interpretation.
The WiSOR Qualitative Core offers faculty and staff consultation, support, and expertise on study design, methodology, data collection and analysis, and interpretation of results. It also offers transcription services.