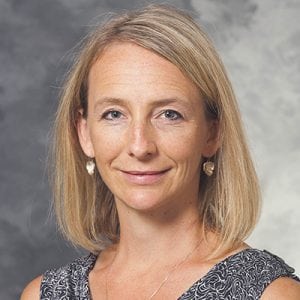 Angela Gibson, MD, PhD, FACS
Assistant Professor
Medical Director, UW Health Wound Healing Services
Division of Acute Care and Regional General Surgery
gibson@surgery.wisc.edu
(608) 265-9574
600 Highland Ave.
MC 3236
Madison, WI 53792
Education
MD, University of Wisconsin School of Medicine and Public Health, 2009
PhD, Cellular and Molecular Biology, University of Wisconsin, 2007
General Surgery Residency, University of Wisconsin Hospital and Clinics, Madison, WI, 2014
Burn Surgery Fellowship, University of California-Davis, Sacramento, CA, 2015
Surgical Critical Care Fellowship, University of Wisconsin Hospital and Clinics, Madison, WI, 2015
Clinical Specialties
Dr. Gibson is certified by the American Board of Surgery in General Surgery and Surgical Critical Care. She specializes in the surgical treatment of trauma and burns and surgical critical care.
Dr. Gibson provides a wide range of services including Burn Surgery, Management of Complicated Wounds, and Trauma Surgery.
Research Interests
Dr. Gibson's research interests focus on epithelial regeneration in burn injury, development and testing of skin substitutes, understanding the contribution of mesenchymal stem cells in burn wound healing, and identifying the role of the host defense peptides in burn wound healing.
Recent Publications