The Abdominal Transplant Surgery Fellowship at the University of Wisconsin is a two-year fellowship accredited by the American Society of Transplant Surgeons (ASTS). We train two fellows per year, and each fellow becomes certified in kidney, liver and pancreas transplantation. Our fellows participate in a high number of abdominal organ transplants and multi-organ procurements. In 2022, we performed 289 kidney transplants, 112 liver transplants, 33 pancreas transplants, 88 laparoscopic donor nephrectomies, 20 renal auto transplants, and 162 deceased donor organ procurements, of which 53 were DCD donor recoveries.

Throughout the course of the fellowship, fellows gain in-depth clinical experience in both adult and pediatric transplantation. Fellows rotate on four separate rotations that include 1) liver and hepatobiliary surgery; 2) kidney transplant; 3) pancreas transplant and live donor nephrectomy; and 4) deceased donor organ procurement. The rotations range from one- to two-month blocks. Fellows are trained in the techniques of kidney, pancreas, and liver transplantation, live donor nephrectomy, live donor hepatectomy, hepatobiliary surgery, liver and pancreas allograft biopsies, and the management of immunosuppression and post-transplant complications. In a collegial manner, our fellows are exposed to the true multidisciplinary approach to transplant care by working closely with fellows and faculty in Transplant Nephrology and Hepatology.
Our training program also includes multiple educational and patient care conferences to expand the knowledge of our fellows. Weekly conferences include patient selection meetings for liver, kidney, and pancreas transplant recipients, multidisciplinary primary liver tumor conference, transplant morbidity and mortality conference, and live donor selection meeting. Fellows also attend a weekly journal club which is run by transplant faculty with expertise in the topic that is being presented. Transplant Grand Rounds are held weekly and presentations are given by both nationally renowned and local speakers with specific transplant expertise. Fellows also participate by giving two Grand Rounds presentations during their fellowship.
Research is a high priority at the University of Wisconsin Division of Transplantation. Transplant faculty are involved in multiple types of research, including basic, translational, and clinical research. In 2021, the Division of Transplantation received over $4.9 million in total extramural research funding of which $3.3 million was awarded by the National Institutes of Health. Fellows are exposed to all types of research during their training, depending on their interests. The most common research projects are clinically‑based projects that are developed through the utilization of our prospectively maintained transplant database. With the assistance of database coordinators and statisticians, fellows can perform retrospective analyses that can lead to abstract presentations and publications. It is an expectation of the fellowship that each fellow participate in research projects that lead to abstract presentations and manuscript publications.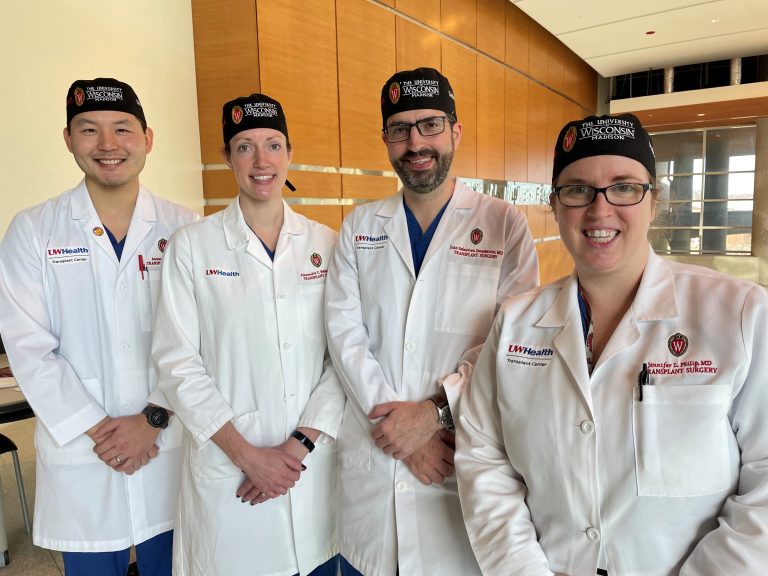 Abdominal Transplant Surgery Fellowship
Contact
Janet Fox
Fellowship Administrator
(608) 263-9903
janet@surgery.wisc.edu