Wisconsin Institutes for Medical Research (
WIMR

)

The University of Wisconsin School of Medicine and Public Health began construction in August 2005 on the Wisconsin Institutes for Medical Research (WIMR) located adjacent to UW Hospital and Clinics. Anticipating completion in 2008, the Department of Surgery purchased 12,500 sq. feet in the WIMR facility. The new space will house scientists from several disciplines, with research focused on stem cells and regenerative medicine. The Fernandez laboratory will move to the WIMR facility in July 2008. The laboratory consists of a dedicated islet isolation/culture facility (200 sq. feet), wet lab area (450 sq. feet) and shared access to state-of-the-art equipment. The lab will also have access to histology and flow cytometry facilities.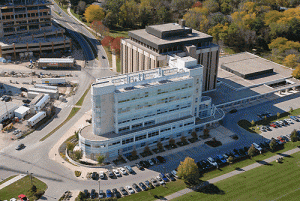 The Waisman Clinical BioManufacturing Facility (WCBF) is a state-of-the-art clean room facility that is equipped with the experienced staff and specialized equipment necessary to produce experimental human biotherapeutics. Located at UW-Madison's Waisman Center, the WCBF provides services to UW-Madison investigators and their external collaborators in advancing cutting-edge experimental therapeutics from basic research to testing in human clinic trials.
Islet cell processing for clinical transplantation at UW-Madison occurs within the WCBFfollowing strict Good Manufacturing Practice standards.