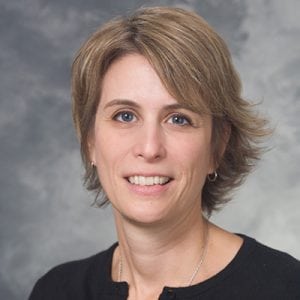 Anne O. Lidor, MD, MPH, FACS
Professor
Chair, Division of Minimally Invasive Surgery
lidor@surgery.wisc.edu
(608) 263-1036
Administrative Assistant: (608) 263-1036
600 Highland Ave
K4/744
Madison, WI 53792-7375
Education
MD, New York Medical College, Valhalla, NY, 1996
General Surgery Residency, George Washington University School of Medicine, Washington, DC, 1999
Fellowship in Minimally Invasive Surgery, Johns Hopkins University School of Medicine, Baltimore, MD, 2004
MPH, The Johns Hopkins Bloomberg School of Public Health, Baltimore, MD, 2007
Clinical Specialties
Dr. Lidor is fellowship-trained in Minimally Invasive and Bariatric Surgery and is board certified in General Surgery. She is a member of the Society of American Gastrointestinal and Endoscopic Surgeons, the Society for University Surgeons, the Society for Surgery of the Alimentary Tract, and the American College of Surgeons. She specializes in minimally invasive techniques for surgery of the stomach and esophagus as well as bariatric surgery. In addition, she uses minimally invasive techniques for benign and malignant disorders of the stomach and esophagus. She has particular interest in complex and revisional foregut disease.
Dr. Lidor provides a wide range of services including Cholecystectomy (Gallbladder Removal), Laparoscopic Adjustable Gastric Band, Laparoscopic and Robotic Gastrectomy, Laparoscopic and Robotic Heller Myotomy, Laparoscopic and Robotic Nissen Fundoplication, Laparoscopic Revisional Bariatric Surgery, Laparoscopic Roux-en-Y Gastric Bypass, Laparoscopic Vertical Sleeve Gastrectomy, Laparoscopic Wedge Resection for GIST, LINX Reflux Management System for GERD, Open and Laparoscopic Hernia Repair, Transoral Incisionless Fundoplication (TIF) , Ventral / Abdominal Hernia Repair.
Research Interests
Dr. Lidor's principal research interest focuses on outcomes related to minimally invasive surgical techniques, surgical education and bariatric surgery.
Recent Publications