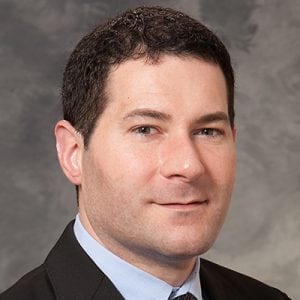 Specialties
David F. Schneider, MD, MS, FACS
Assistant Professor
Division of Endocrine Surgery
schneiderd@surgery.wisc.edu
(608) 263-1387
600 Highland Ave
BX7375 Clinical Science Center
Madison, WI 53792-3284
Education
MD, Loyola Stritch School of Medicine, Chicago, IL, 2004
Research Fellowship in Burn & Shock Trauma, Loyola Medical Center, Chicago, IL, 2008
MS in Clinical Research Methods, Department of Preventive Medicine & Epidemiology, Loyola Stritch School of Medicine, 2010
General Surgery Residency, Loyola Medical Center, Chicago, IL, 2011
Fellowship in Endocrine Surgery, University of Wisconsin School of Medicine and Public Health, 2013
Clinical Specialties
Dr. Schneider is certified by the American Board of Surgery, and he is a member of multiple specialty societies including the American Association of Endocrine Surgeons, the American Thyroid Association, the North American NeuroEndocrine Tumor Society, and the American Association of Clinical Endocrinologists. He specializes in endocrine surgery, treating diseases of the thyroid, parathyroid, and adrenal glands. He utilizes several minimally invasive techniques to treat endocrine disorders (endoscopic thyroidectomy, minimally invasive parathyroidectomy, laparoscopic adrenalectomy, focused exploration for recurrent thyroid cancer).
Dr. Schneider provides a wide range of services including Adrenal Surgery, Central Neck Dissection, Endocrine Surgery, Fine Needle Aspiration (FNA), Laparoscopic Adrenalectomy, Minimally Invasive Parathyroidectomy, Minimally Invasive Radioguided Parathyroidectomy (MIRP), Modified Radical Neck Dissection, Neck Ultrasound, Open Adrenalectomy, Parathyroid Surgery, Resection Of Substernal Goiter, Retroperitoneoscopic Adrenalectomy, Subtotal Parathyroidectomy, Thyroidectomy, Thyroid Lobectomy, Thyroid Surgery, Total Thyroidectomy.
Research Interests
Dr. Schneider conducts outcomes research in conjunction with the Wisconsin Surgical Outcomes Program. His research program investigates the optimization of cancer care in the United States with a particular interest in endocrine cancers. This work utilizes large national databases which can impact national healthcare and policy initiatives. He also conducts clinical research working on hyperparathyroidism, thyroid cancer, Graves' Disease, and adrenal disorders.
Recent Publications