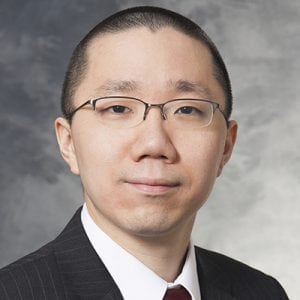 Specialties
Acute Care Surgery
Surgical Critical Care
Hee Soo Jung, MD, FACS, FCCM
Associate Professor
Director, Surgical Critical Care Services
Program Director, Surgical Critical Care Fellowship
Division of Acute Care and Regional General Surgery
jung@surgery.wisc.edu
(608) 265-9574
600 Highland Ave
G5/340
Madison, WI 53792-0001
Education
MD, Northwestern University Medical School, Chicago, IL, 2007
Residency in Surgery, Saint Louis University School of Medicine, St. Louis, MO, 2012
Fellowship, Surgical Critical Care, University of Michigan, Ann Arbor, MI, 2013
Clinical Specialties
Dr. Jung is certified by the American Board of Surgery and the American Board of Surgical Critical Care. Dr. Hee Soo Jung practices in the trauma, burn and acute care surgery programs.
Dr. Hee Soo Jung provides a wide range of services including Appendectomy, Burn Surgery, Cholecystectomy (Gallbladder Removal), Excision of Lipoma, Laparoscopic Groin Hernia Repair, Muscle Biopsy, Open Groin Hernia Repair, Sebaceous Cyst Removal, Subcutaneous Tumor Removal, Trauma Surgery, Ventral / Abdominal Hernia Repair, Bowel Obstruction Surgery, Small Bowel and Large Bowel/Colon Resection.
Research Interests
Dr. Jung's research focuses on reducing preventable errors in trauma care through the development of novel educational and assessment methodologies. His team currently studies interdisciplinary team communication and its impact on patient care. He also investigates clinical outcomes in trauma, emergency general surgery and critical care.
Recent Publications