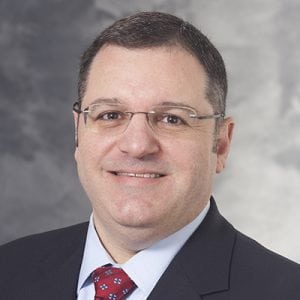 John Rectenwald, MD, MS
Professor
Interim Chair, Division of Vascular Surgery
Vice Chair of Education
Susan Behrens MD (Class of 1975) Surgery Education Chair
rectenwald@surgery.wisc.edu
(608) 265-4420
600 Highland Ave.
Madison, WI, 53792
Education
MD, Medical College of Georgia, Augusta, GA, 1996
General Surgery Residency, University of Florida Health Science Center, Gainesville, FL, 2003
Fellowship in Vascular Surgery, University of Michigan Medical Center, Ann Arbor, MI, 2005
MS, Clinical Research Design and Statistical Analysis, University of Michigan School of Public Health, Ann Arbor, MI, 2009
Clinical Specialties
Dr. Rectenwald is certified in General and Vascular Surgery by the American Board of Surgery. He specializes in the treatment of aneurysmal disease of the aorta and peripheral arteries, occlusive disease of the cerebral arteries, the treatment of peripheral arterial disease both surgically and with catheter-based approaches. He also treats simple and complex venous disease and has a clinical interest in the use of inferior vena cava filters and their removal.
John Rectenwald, MD, MS provides a wide range of services including Abdominal Aortic Aneurysm (AAA) Repair – Open, Abdominal Aortic Aneurysm (AAA) Repair – Endovascular, Amputation, Angioplasty With Stent Placement, Carotid Endartecotomy, Extended Efforts in Limb Salvage, Peripheral Artery Bypass, Varicose Vein Treatment, Peripheral Artery Aneurysm Repair, Treatment of Claudication, Venous Disease Treatment.
Research Interests
Dr. Rectenwald is interested in the uses and outcomes related to inferior vena cava filters as well as outcomes related to the endovascular and open treatment of peripheral arterial disease. His interests include surgical education and the training of future vascular and endovascular surgeons.
Recent Publications