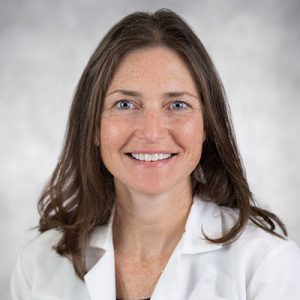 Kaitlyn Kelly, MD, MAS
Associate Professor
Division of Surgical Oncology
Education
MD, New York Medical College, Valhalla, NY, 2004
General Surgery Residency, University of Wisconsin Hospital and Clinics, Madison, WI, 2011
Research Fellowship, Memorial Sloan Kettering Cancer Center, New York, NY, 2008
Clinical Fellowship, Memorial Sloan Kettering Cancer Center, New York, NY, 2013
MAS, University of California San Diego, San Diego, CA, 2019
Clinical Specialties
Dr. Kelly's primary clinical practice includes the treatment of upper gastrointestinal malignancies, including gastric, pancreatic, and hepatobiliary cancers, as well as peritoneal surface malignancy, melanoma, and sarcoma. She is particularly interested in developing minimally invasive techniques for cancer surgery. Dr. Kelly's primary clinical and research interest is gastric cancer. She is among the highest-volume gastric cancer surgeons in the country with over 10 year of experience, and has pioneered minimally-invasive surgical techniques for gastrectomy with comprehensive lymph node removal. Dr. Kelly also performs some operations with an open technique when necessary, and can perform additional procedures to treat liver cysts, chronic pancreatitis, and gallbladder disease. Dr. Kelly is board-certified in Complex General Surgical Oncology and General Surgery.
Dr. Kelly provides a wide range of services including Laparoscopic and Robotic Gastrectomy, Liver Resection, Laparoscopic Pancreatectomy, Small Bowel and Large Bowel/Colon Resection, Laparoscopic Adrenalectomy, Cytoreductive Surgery with HIPEC, Whipple Procedure, Bile Duct Resection, Cholecystectomy (Gallbladder Removal), Melanoma Wide Local Excision and Skin Closure, Sentinel Lymph Node Biopsy.
Research Interests
Dr. Kelly is a clinical and translational researcher. She is a Nationally-recognized expert in gastric cancer treatment and much of her research is aimed to improve the quality of gastric cancer surgery as it is performed across the U.S.  She is also involved in the development and conduct of clinical trials. Dr. Kelly is an active member of the Alliance for Clinical Trials in Oncology, the Eastern Cooperative Oncology Group (ECOG), the American College of Surgeons, the Society of Surgical Oncology, and the American Society of Clinical Oncology.
Recent Publications