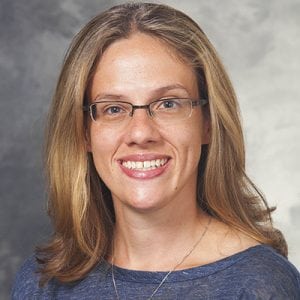 Specialties
Kyla M Bennett, MD, FACS
Associate Professor
Division of Vascular Surgery
bennettk@surgery.wisc.edu
(608) 265-4420
600 Highland Avenue
G5/322
Madison, WI 53792
Education
MD, Duke University School of Medicine, Durham, NC, 2006
General Surgery Residency, Duke University Medical Center, Durham, NC, 2013
Vascular Surgery Fellowship, Duke University Medical Center, Durham, NC, 2015
Clinical Specialties
Dr Bennett is certified by the American Board of Surgery. Her practice includes endovascular and open approaches to peripheral arterial disease, aneurysms, carotid disease and venous disorders.
Dr. Bennett provides a wide range of services including Abdominal Aortic Aneurysm (AAA) Repair – Endovascular, Abdominal Aortic Aneurysm (AAA) Repair – Open, Angioplasty With Stent Placement, Carotid Endartecotomy, Carotid Stenting, Dialysis Access, Extended Efforts in Limb Salvage, Peripheral Artery Bypass, Thoracic Aortic Aneursym – Endovascular, Thoracic Aortic Aneursym – Open, Thoracic Outlet Syndrome Treatment, Varicose Vein Treatment.
Research Interests
Dr. Bennett's research interests include socioeconomic effects on outcomes of vascular disease and vascular surgery as well as methods to mitigate these effects. Her interests also include patient-centered decision making – improving assessment of patient-specific comorbidity and operative outcome risk assessment and delivering this information to the patient.
Recent Publications