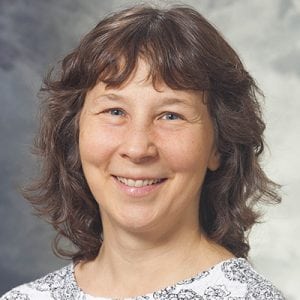 Specialties
Lori A. Seaborne, MPAS, PA-C
Physician Assistant and Certified Sexuality Counselor
seaborne@surgery.wisc.edu
(608) 262-5379
600 Highland Ave
Madison, WI 53792
Education
Bachelor of Physician Assistant Studies, UW-Madison
Certificate in Sexuality Counseling, University of Michigan
Master of Physician Assistant Studies, UW-Madison
Clinical Specialties
Lori works in the UW Breast Center at University Hospital. She specializes in the care of women and men with breast concerns. She sees patients in the Breast Center's Survivorship program, doing surveillance to monitor for recurrence, educate patients, and help manage issues related to cancer and its treatment.
Lori had more than 10 years of experience caring for women with gynecologic malignancies prior to joining the breast center.
Sexual health in women after cancer is an area of particular interest for her and she is involved in 2 programs offered through the Carbone Cancer Center. She developed a free educational program for female cancer survivors called Intimacy and Sex in Women After Cancer. She also sees patients in the Women's Integrative Sexual Health (WISH) Program. She is one of 2 physician assistants that created this program to serve women with sexual health concerns related to cancer diagnosis and treatment.
She has been an invited lecturer on the topic of sexuality and cancer for Grand Rounds at the Carbone Cancer Center, the Society for Gynecologic Oncology, and various survivor groups. Additionally, she lectures on various topics to the students at the UW-Madison Physician Assistant program.