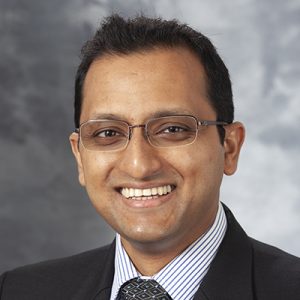 Specialties
Peritoneal Surface Malignancy
Syed Nabeel Zafar, MD, MPH
Assistant Professor
Division of Surgical Oncology
zafars@surgery.wisc.edu
(608) 262-2025
Education
Bachelor of Medicine and Bachelor of Surgery, Aga Khan University Medical College, 2008
Master of Public Health, Harvard T.H. Chan School of Public Health, 2010
General Surgery Residency, Howard University Hospital, 2017
Advanced GI and Minimally Invasive Surgery Fellowship, University of Maryland Medical Center, 2018
Complex General Surgical Oncology Fellowship, MD Anderson Cancer Center, 2020
Clinical Specialties
Dr Zafar is fellowship trained in both Minimally Invasive Surgery and in Cancer Surgery. He is certified by the American Board of Surgery and the American Board of Medical Quality. Dr Zafar is an active member of several professional societies including the Association of Academic Surgeons, the Society of Surgical Oncology, the American College of Surgeons, and the Association of Global Academic Surgeons.
His clinical focus is in gastrointestinal malignancies and especially laparoscopic and Robotic approached to cancer surgery. Dr Zafar specializes in malignant disease of the pancreas, liver, gallbladder, biliary tree, stomach, small intestine, neuroendocrine tumors, gastrointestinal stromal tumors, retroperitoneal sarcoma and in peritoneal surface malignancies including cytoreductive and HIPEC procedures.
Research Interests
Dr. Zafar conducts health services research and research on global oncology/global surgery. He analyzes large datasets to study outcomes after cancer surgery, as well as disparities in outcomes after surgical care. His research also focuses on improving cancer care delivery and cancer surgery in low-and middle-income countries.
Recent Publications