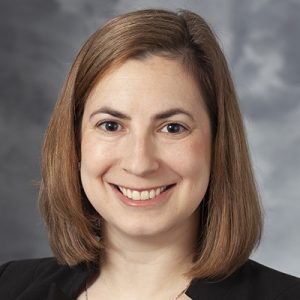 Specialties
Surgical Critical Care
Acute Care Surgery
Rebecca A. Busch, MD, FACS
Assistant Professor
• Division of Acute Care and Regional General Surgery
busch@surgery.wisc.edu
(608) 265-9574
600 Highland Ave
MC 3236
Madison, WI 53792
Education
BA, John Hopkins University, Baltimore, MD, 2007
MD, Washington University School of Medicine, St. Louis MO, 2011
Residency, University of Wisconsin Hospitals & Clinics, Madison WI, 2018
NIH T32 Postdoctoral Surgical Oncology Research Fellow, University of Wisconsin, Madison WI, 2015
Surgical Critical Care Fellow, University of Michigan, Ann Arbor MI, 2019
Nestlé Nutrition Institute Clinical Nutrition Fellowship Program for Physicians, 2019
Clinical Specialties
Dr. Busch is certified by the American Board of Surgery and the American Board of Surgical Critical Care, and is a recognized Physician Nutrition Specialist® by the National Board of Physician Nutrition Specialists. Dr. Busch specializes in trauma, surgical critical care, surgical nutrition, and adult general surgery.
Dr. Busch provides a wide range of services including Appendectomy, Cholecystectomy (Gallbladder Removal), Excision of Lipoma, Open Groin Hernia Repair, Sebaceous Cyst Removal.
Research Interests
Dr. Busch's current research interests focus on perioperative nutrition support, nutrition support in the critically ill, and identification of nutrition risk and intervention among trauma patients.
Recent Publications