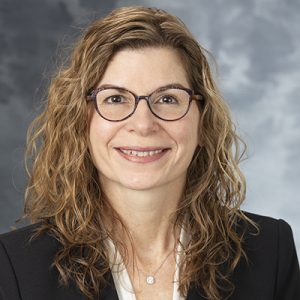 Sharon M Weber, MD, FACS
Professor
Chair, Division of Surgical Oncology
Medical Director of Surgical Oncology, UW Carbone Cancer Center
Endowed Professor, Tim and Mary Ann McKenzie Professorship in Surgical Oncology
webers@surgery.wisc.edu
(608) 262-2025
Administrative Assistant: (608) 262-2025
600 Highland Avenue
Clinical Science Center
Madison, Wisconsin 53792-7375
Education
MD, University of Wisconsin Medical School, Madison, WI
Residency in General Surgery, University of Wisconsin Hospital and Clinics, Madison, WI
Research Fellowship in Tumor Immunotherapy, University of Wisconsin Medical School, Madison, WI
Surgical Oncology Fellowship, Memorial Sloan-Kettering Cancer Center, New York, NY
Hepatobiliary Fellowship, Memorial Sloan-Kettering Cancer Center, New York, NY
Clinical Specialties
Dr. Weber is actively involved in minimally invasive approaches to cancer treatment, including both laparoscopic pancreas and liver surgery. She has been invited as a speaker/moderator at many national meetings, including the American College of Surgeons, the American Hepatopancreaticobiliary Association, Society of Surgical Oncology, and Society of University Surgeons.
Dr. Weber provides a wide range of services including Bile Duct Resection, Caudate Resection, Cryoablation, Cyst Fenestration (Unroof Liver Cyst), Cytoreductive Surgery with HIPEC, Frey Procedure, Gastrectomy – Partial or Total, Hemihepatectomy (Hepatectomy), Laparoscopic Liver Resection, Liver Resection, Liver Tumor Ablations, Melanoma Completion Lymph Node Dissection (Axillary and Groin), Melanoma Sentinel Lymph Node Biopsy, Melanoma Wide Local Excision and Skin Closure, Obstructed Pancreatic Duct Drainage (Peustow Procedure), Pancreatic Head Resection, Pancreaticoduodenectomy, Pancreatic Pseudocysts Drainage, Pancreatic Resections, Radical Cholecystectomy, Radiofrequency Ablation, Right Hemihepatectomy, Right / Left Extended Hemihepatectomy (Hepatectomy), Wedge Resection of the Liver, Whipple Procedure.
Research Interests
Dr. Weber conducts translational research at the UW Carbone Cancer Center evaluating novel tumor selective agents which may be promising for imaging and/or treating tumors. She also conducts clinical research evaluating prognosticators of outcome in patients with liver, bile duct, and liver tumors. Dr. Weber's research interests also include mixed methods evaluation of risk factors for readmission using a systems engineering approach with a focus on the transition of care and outcomes research evaluating preoperative predictors of postoperative complications.
Recent Publications