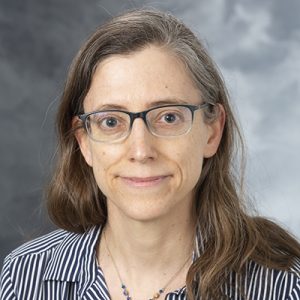 Tiffany Glass, MA, CMI, PhD
Scientist II
Dr. Glass applies research paradigms developed in the Connor Lab to investigations of oromotor phenotypes of mouse models of Down syndrome (DS), with a long-term interest in resolving basic biological knowledge gaps and promoting translational research specific to the vocal communication, feeding, and swallowing challenges associated with DS. Tiffany completed a BA in Zoology at the University of Wisconsin, Madison, and a MA in Medical & Biological Illustration at the Johns Hopkins School of Medicine. After a brief period as a medical illustrator, she completed a PhD in Molecular, Cellular, Developmental Biology & Genetics at the University of Minnesota, where she used zebrafish models to investigate biological mechanisms permitting successful outcomes in hematopoietic cell transplant. She subsequently completed postdoctoral training with the UW-Madison Voice Research Training Program. Tiffany is now applying this interdisciplinary background to the integration of molecular, tissue-level, gross anatomical, and functional investigational techniques to clarify the degree to which mouse models of DS recapitulate vocal communication and deglutition disorders that can pose challenges for individuals with DS.
glass@surgery.wisc.edu
(608) 265-9130
1300 University Avenue
MC 1509
Madison, WI 53706
Research Interests
Dr. Tiffany Glass's NIH-funded research targets basic and translational investigation of developmental voice, speech, oromotor, and swallowing disorders, with an overarching focus on Down syndrome (DS). Her broad investigational perspective spans genetic, molecular, cellular, anatomical, and murine behavioral oromotor research paradigms. She led some of the first work on oromotor, feeding and swallowing phenotype characterization of the Ts65Dn and Dp(16)1Yey mouse models of DS. Current or pending projects extend this work with mouse models of DS to 1) Better understand the biological processes underlying postnatal maturation of tongue muscle function, and to determine how that maturation is impacted by DS, and 2) Determine the causes of swallowing phenotypes in mouse models of DS at adult ages. This work is carried out with the goal of ultimately informing rational development of new therapeutics to ameliorate oromotor and deglutition disorders associated with DS.