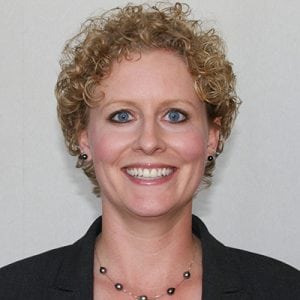 Trista Stankowski-Drengler, MD
General Surgery Resident
Trista is a junior general surgery resident in her intern year of residency. Her current clinical interests are in the field of surgical oncology and she hopes to pursue research in cancer outcomes during her time at UW Health. As a medical student, Trista was awarded a year-long ICTR-Shapiro Research Fellowship from the University of Wisconsin School of Medicine and Public Health (UWSMPH), which allowed her to participate in cancer research, focusing primarily on breast cancer outcomes and their relation to mammography and diabetes. Trista hopes to continue similar research throughout her residency.
Originally from central Wisconsin, Trista graduated with a BS in clinical laboratory science from the University of Wisconsin-La Crosse in 2006. Before attending medical school, Trista worked in a clinical laboratory at Mayo Clinic in Rochester, Minnesota, focusing on testing for blood disorders, such as multiple myeloma and amyloidosis.
Trista obtained her medical degree from UWSMPH in 2015, graduating with research honors and elected to Alpha Omega Alpha (AOA) Honor Medical Society. She was also selected as the 2015 UWSMPH Houghton Award recipient awarded by the Wisconsin Medical Society to those who demonstrate promise of becoming a "complete physician." She is expected to complete general surgery residency in 2022.
In her free time, Trista enjoys traveling, playing piano, kayaking, gardening, and art, including painting, pottery, glassblowing, and lampworking.
Education
MD, University of Wisconsin School of Medicine and Public Health, 2015