The Wisconsin Surgical Coaching Program (WSCP) adapts methodology and theory from the disciplines of education, music, athletics and executive coaching to develop a video-based coaching program for surgeons.
Few prior opportunities exist to improve the performance of experienced surgeons in practice. Currently, surgeons rely on continuing medical education, which is primarily didactic, for professional development. Formative assessments, consisting of qualitative, descriptive feedback on individual performance, are better aligned with adult learning theory and more likely to improve surgical care.
Surgical performance is a high-impact target for improving patient safety and quality of care given the prevalence of adverse events in surgical settings. This project proposes a novel video-based coaching program that can address these issues.
Our long-term objective is to improve surgical performance and ultimately the quality and safety of surgical care throughout the state.
Current activities
Development of 

WSCP

 framework. We spoke to experts in the fields of education, music, athletics and executive coaching to develop a framework adapted to surgery. This framework was accepted for publication in the Annals of Surgery.
Development of coach training program. We created a 4.5-hour training session to prepare our coaches for the year ahead including personality assessments, coaching examples, in-depth discussion of partnership/peer coaching, self-reflection and constructive feedback.
Recruitment of coaches. We successfully recruited 10 coaches from the state of Wisconsin via peer nomination and held two of the coach training sessions in April 2014.
Partnership with Michigan Bariatric Surgery Collaborative (

MBSC

). We are currently working on a project to implement 

WSCP

 in 

MBSC

.
Recruitment of coachees. We are currently collaborating with the Wisconsin Surgical Society to recruit coaches. If you are interested, please contact us for more information.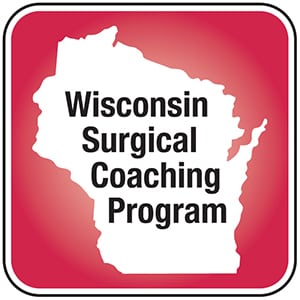 Wisconsin Surgical Coaching Program