Establishment of Human Models of Thermal Injury
Clinically relevant models are necessary for understanding the mechanisms of human wound healing and for evaluation of prospective medical treatments. In-vitro organotypic skin cultures and animal models of thermal injury do not accurately represent the anatomic and functional characteristics of human skin thus limiting the translation of findings to patients. Therefore, the development of a reproducible thermal injury model in human skin is essential to standardizing research related to the proper identification, treatment, and prevention of burn injuries. Our aim is to develop reproducible human burn models (ev vivo and in vivo) that simulate thermal injury sustained in patients to accurately represent the different classifications of burn injury depths necessary to characterize human burn progression and healing. The combination of our ex vivo human skin model and in vivo human skin model is to separate the local wound microenvironment and systemic mediators (including systemic inflammatory responses and vascular defects) on infection and burn wound progression, respectively.
Molecular Signature of Cellular Injury and Regeneration in Burn Tissue
The regenerative capacity of burn wounds, and the need for surgical intervention, depend on wound depth. Clinical visual assessment is considered the gold standard for burn depth assessment, but it remains a subjective and inaccurate method for tissue evaluation. The purpose of this study was to characterize the baseline regenerative capacity in human burn wounds in correlation with their clinical visual depth diagnosis in order to understand the wound healing potential of deep partial thickness (DPT) and full thickness (FT) depth burns.
Using intraoperative visual assessment, patients were identified as DPT or FT wounds (see Figure 3.1). We hypothesized that DPT and full thickness (FT) burn wounds retain considerable viability and regenerative capacity that is not clinically apparent on visual inspection. To determine if the histological markers of viability and regenerative capacity were also seen on the molecular level, full thickness tissue biopsies obtained intraoperatively and clinically assessed to be DPT or FT were submitted for RNA sequencing. There were 5416 differentially expressed genes (DEG) identified in FT and 4131 DEG in DPT tissues. 1442 of the DEG were different in DPT versus FT. The top 20 enriched pathways in DPT were related to regeneration while inflammation and oxidative stress pathways were significantly enriched in FT tissues (Figure 3.2). When comparing DPT and FT gene sets for inflammation and regeneration, DPT had greater regenerative potential than FT (Figure 3.3A; p<0.03), while FT had greater inflammatory response and reactive oxygen species (ROS) than DPT (Figure 3.3B; p<0.0001).
Our findings advance the idea of harnessing the potential autologous regenerative capacity within the burn wound. However, an improved understanding of the specific wound bed characteristics, and the treatment needed to harness the inherent regenerative capacity in these wounds, will be required before a paradigm shift can occur.
Figure 1. Intraoperative images of patients clinically assessed as deep partial (DPT) or full thickness (FT) burns at the time of surgery.

Figure 2. Top 20 enriched pathways in FT (A) and DPT (B) burns as identified from RNA sequencing.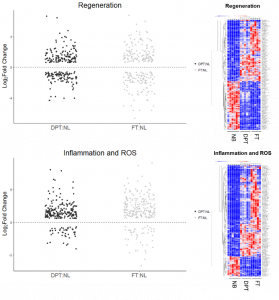 Figure 3.  Analysis of gene sets of genes involved in inflammation or regeneration in DPT and FT burn tissues.