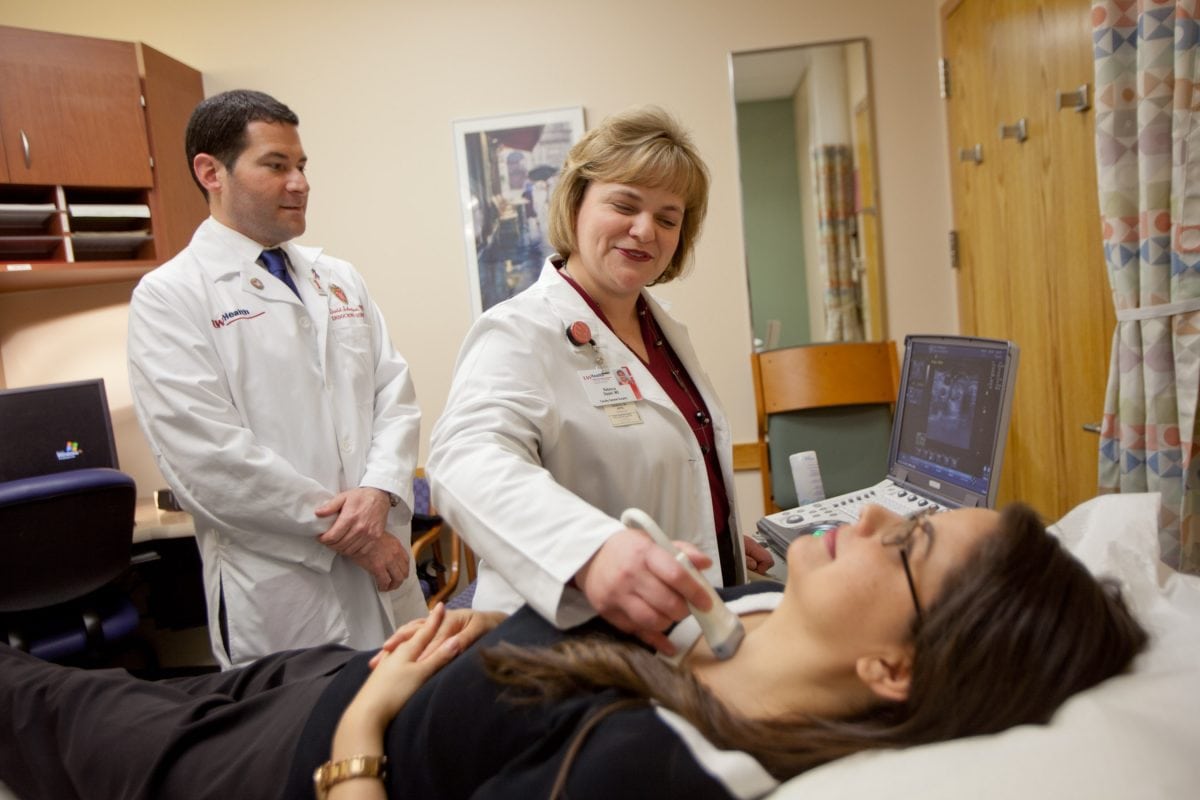 When a patient presents with a thyroid, parathyroid, or adrenal condition, it can be challenging to know when and how a case needs to be treated surgically, especially if you don't have endocrine surgery resources in your area.
To help you care for your patients, our endocrine surgery team has put together a visual workup guide for patients presenting with thyroid nodules, hyperparathyoid symptoms, or an adrenal mass.
Distance referral program
Our distance referral program is a convenient way for you to refer your patients with hyperparathyroidism, thyroid or adrenal problems to UW Health Endocrine Surgery. We offer your patients a consultation and surgery all in one trip. This usually requires a 2–3 day stay in Madison.
If you have questions about our distance referral program or are interested in referring a patient, please contact our program coordinator, Cindy Shumway, at (608) 262-2249 or shumway@surgery.wisc.edu.
How Our Program Works
Fax your referral and additional information to our distance referral coordinator:
Cindy Shumway, BS, LPN
Fax: (608) 252-0944
Phone: (608) 262-2249
We will call patients, get them set up in our system and obtain additional information.
Our endocrine surgeons will review patients' records and make recommendations.
We will call patients with the surgeons' recommendations and coordinate the consultation, any additional testing, if needed, and the surgery.
Patients will need to see their primary care physicians for a pre-operative exam within 30 days of the surgery date. We will fax the primary care physicians a pre-operative request letter with the information needed (labs, EKG, etc.)
We will fax all of the records to you after the surgery. Patients usually have their post-op visits and lab tests done locally and we call them on the phone to follow up with results.
It is not always safe or appropriate to proceed with the consult and surgery in one trip. If this is the case, we will work with your patient to create an alternative plan.
More about our endocrine surgery team
UW Health endocrine surgeons take a patient-centered approach. Our team offers a tailored treatment plan for each patient, focused on improving quality of life, optimizing long-term outcomes and special consideration for patient preferences. Even mild or subclinical forms of endocrine disease can be successfully treated.
We offer advanced techniques for diagnosis, treatment and prevention of endocrine disorders. Our approach matches the best technology to each patient's needs. Our goal is to provide quality care for even the most complex patients.
This includes:
Workup and management of incidentally discovered adrenal nodules
Comprehensive management of initial and recurrent thyroid cancers
Endoscopic surgery
Minimally invasive radioguided parathyroidectomy
Re-operative surgery for patients with persistent and recurrent primary hyperparathyroidism
Integrated treatment for hyperthyroidism, Cushing syndrome, hyperaldosteronism, pheochromocytoma and all types of hyperparathyroidism
Clinical trials for treatment-resistant thyroid cancer
Minimally invasive surgery for large adrenal masses
Coordinated two-day visit, including clinical consult with surgery the following day