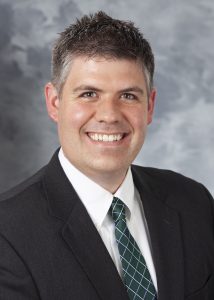 The Department of Surgery is pleased to welcome Michael Puricelli, MD, to our faculty as an Assistant Professor in the Division of Otolaryngology. He will join an active pediatric otolaryngology group with an elective clinical practice at American Family Children's Hospital (AFCH). His clinical interest involves collaborating with division faculty and multidisciplinary colleagues, including audiology and speech-language pathology.
Dr. Puricelli's research interests include chronic ear disease/temporal bone anatomy, cochlear implantation, pediatric mastoiditis, as well as the spectrum of communication disorders and creative problem solving/surgical innovation.
He received his Bachelor of Science, Arts, and medical degrees from the University of Missouri, completed his residency at the University of Missouri, and completed an advanced otology and neurotology fellowship at Paparella Ear, Head and Neck Institute in Minneapolis, Minnesota and a pediatric otolaryngology fellowship at the University of Iowa.
Dr. Puricelli can be contacted at puricelli@surgery.wisc.edu or (608) 262-7181.
Welcome, Dr. Puricelli!