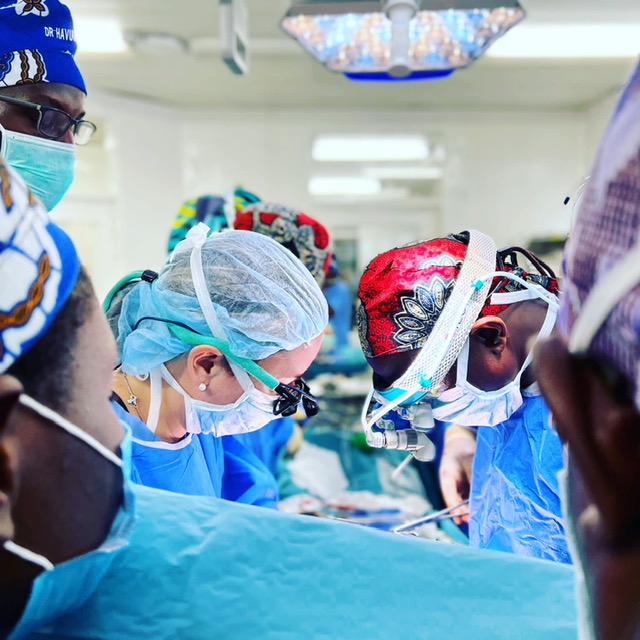 In November of 2021, a team of health care professionals from across the country, which included a number of individuals from the University of Wisconsin Department of Surgery led by Amy Fiedler, MD, traveled to Rwanda as a part of Team Heart, a global organization focused on improving cardiovascular health care in Rwanda.
Team Heart was started in 2009 by Ceeya Bolman, RN, and her husband Morton "Chip" Bolman, MD, to perform heart surgeries in a country that lacked a native cardiac surgeon. It has now grown from a Boston-based effort to a world-wide cooperative effort to perform surgeries, train nurses, anesthesiologists and doctors, and set up key sustainable infrastructure to combat cardiac health issues affecting Rwanda for which Fiedler is the surgical director.
Fiedler first joined Team Heart as a general surgery resident at Massachusetts General Hospital in Boston. She explains that rheumatic heart disease is common among children and teenagers in Rwanda, the result of heart valve damage from untreated strep infections. In high-resource countries, strep infections are treated with antibiotics and rarely cause severe damage. But in Rwanda, and much of sub-Saharan Africa, such basic care is often not available. The results can be fatal.
When it first began, Team Heart took around 50 volunteers to Kigali, the country's capital, once a year to perform surgeries for two weeks. It soon became clear, however, that expansion was necessary to help patients after their surgeries in addition to growing the program. This included mentoring Maurice Musoni, MD, the country's first cardiac surgeon.
Fifteen years after its beginning, Team Heart now encompasses volunteers from 15 states across the US and Canada, with Fiedler and her team representing Wisconsin.
"Initially, our goal was to bring everything for our work: equipment, people, everything," Fiedler said. "Now, we're focused on helping to establish a sustainable local system so people in Kigali aren't waiting for visitors to come in twice a year."
Fiedler selected two nurses and one perfusionist from UW to join her abroad. Mikayla Kohls, (RN) and Alexa Callahan, RN, both ICU nurses, and Clarisa Czekajlo, a perfusionist specializing in running the heart lung machine.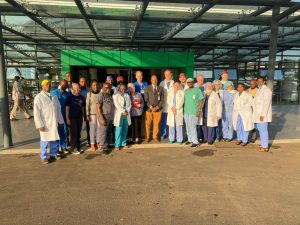 Kohls had experience with global health through previous service trips as a nursing student at UW-Madison, where she earned a certificate in global health. Her trip with Fiedler, however, exposed distinct differences now that she was a fully licensed nurse and a leader for her colleagues.
"Even if I or another traveling nurse was confident in our abilities, we were doing things on the fly that go back to the fundamentals of nursing," Kohls said. "On top of that, we're treating patients while also teaching nurses in Kigali who will carry on the work after we leave."
This February, which also marks American Heart Month, another Team Heart trip will occur lead by a surgeon in Nebraska. Fiedler will be returning to Rwanda in April.
"We will keep working in collaboration with our Rwandan colleagues to establish independent cardiac surgery in Rwanda. The people of Rwanda deserve it, and we are dedicated to the country and the program." Fiedler said.