Charles Patrick Shahan, MD, MS, assistant professor at the University of Wisconsin Department of Surgery, recently received the Medical Staff Collegiality Award from UnityPoint Health – Meriter.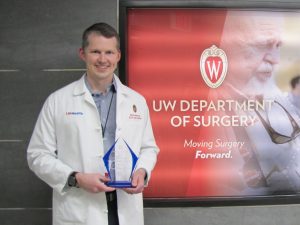 Dr. Shahan, who specializes in trauma in the Division of Acute Care & Regional General Surgery, was nominated for the award by fellow faculty members Jenna Racine, MD, and Jacquelyn Adams, MD, from the University of Wisconsin Department of Obstetrics and Gynecology. Both doctors praised Dr. Shahan's readiness to help with a pregnant patient who had a long ventral hernia that needed repair.
Dr. Shahan was the on-call surgeon that afternoon, his shift scheduled to end at 5 p.m. Dr. Racine called him at 3:30 p.m., but because the labor and C-section delivery took longer than expected, he did not get the chance to complete his portion until nearly 8 p.m. Drs. Racine and Adams praised him for his patience, adaptability, and skill, noting that he even took time to instruct the OB resident.
"His calm demeanor and confidence helped keep the atmosphere relaxed," their nomination letter read. "I hope I don't have to call on Dr. Shahan again, but if I ever have another case like this, he's the first person I'd call!"
The Collegiality Award, which was established in 2017, acknowledges physicians on the UnityPoint Health-Meriter medical staff who exemplify the characteristics of being a great colleague, including fostering positive relations between providers, patients and families, showing unselfish devotion to the welfare of others, and treating everyone with kindness, respect and dignity.