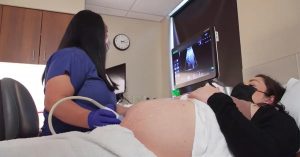 Last week, UW Health and UnityPoint Health-Meriter announced the launch of the only fetal diagnosis and treatment center in Wisconsin, helmed by assistant professor of pediatric surgery Inna Lobeck, MD.
The center brings specialists together to provide comprehensive care for pregnant patients before, during and after birth, including fetal surgery in-utero if necessary. This "one-stop shop" approach makes care more accessible and affordable- an important goal for addressing fetal health disparities. For infants born with a birth defect, mortality rates are higher among babies born to Black or Hispanic mothers compared to babies born to non-Hispanic white mothers.
"Our center saves families time, money and emotional stress related to multiple appointments, while also providing personalized care and education every step of the journey," Dr. Lobeck said.
https://www.uwhealth.org/news/uw-health-unitypoint-health-meriter-launch-wisconsin-only-fetal-diagnosis-treatment-center