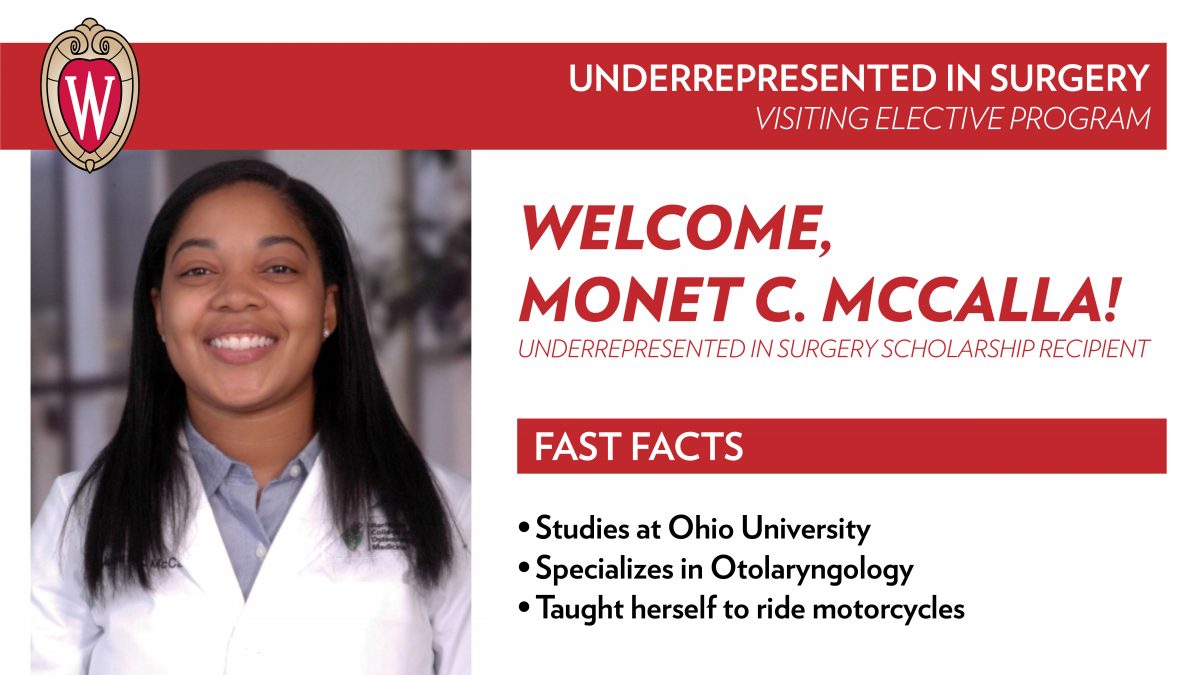 For aspiring surgeon Monet C. McCalla, a visit to Madison, Wisconsin balanced both new and familiar experiences.
As a Florida native, McCalla felt at home kayaking on the lakes near campus. As a fourth-year medical student at Ohio University, she travelled to Wisconsin through the department's URiM program, visiting UW for the first time though still firmly in the Midwest. Finally, rotating in our otolaryngology program, she was in the specialty of her choice, yet nearly every case she participated in was something she had never seen before.
McCalla was impressed with the responsiveness of everyone she worked with on campus, and said they made her feel like a part of the team, with the residents being especially welcoming.
"My questions in and out of the operating room were not only welcomed, but were challenged with thoughtful answers." McCalla said. "The intentionality and detail in patient care I witnessed at the University of Wisconsin will greatly impact the way I plan to care for my patients."
McCalla said some of her most inspiring experiences included interacting with faculty like Tiffany Glazer, MD, whom she remarked about to a surgery resident in the elevator immediately after working with her.
"I said to the resident, 'Dr. Glazer is amazing!', and they replied that Dr. Glazer was the reason they came to Wisconsin. I completely understood why that would be," McCalla said.
As she wraps up her last year of medical school, McCalla's focus is now turned to finding what community she can serve as a resident. While her sites are set on otolaryngology, she is concurrently working on research and volunteering at Ohio University with underserved communities. McCalla said after residency, she is particularly interested in advocating for underserved communities on both a national and international scale.
While in Wisconsin, McCalla spoke about global surgery with Girma Tefera, MD, whose international leadership on the topic was right up her alley. Her interest in both otolaryngology and global surgery can be traced back to a global health mission trip during which she recalled working with a 13-year-old boy, first observing and then participating in a lipoma resection on his scalp and working late into the night. McCalla said she never forgot the patient's reaction afterward.
"I saw tears of joy; he said he wouldn't be bullied at school anymore," McCalla said. "I realized what's most important to me is the ability to directly impact patients' quality of life. That is one of the reasons why I respect and appreciate this field so much–it allows for that and more."
She concluded, "I'm happy to have the opportunity to serve patients through this field. It's truly a privilege."