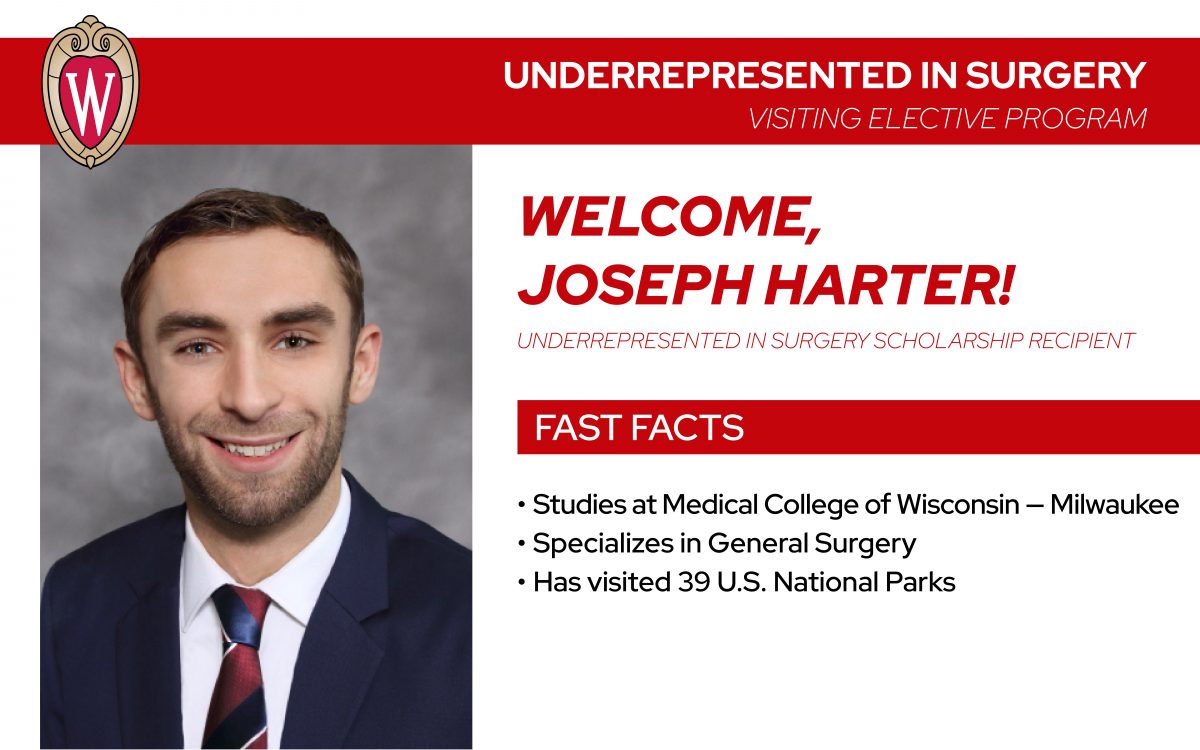 The School of Medicine and Public Health and Department of Surgery is committed to being a diverse, equitable, inclusive, and anti-racist learning environment and workplace. The Underrepresented in Medicine (URiM) Visiting Student Scholarship Program, sponsored by the Department of Surgery, supports qualified 4th year medical students from underrepresented backgrounds in medicine in developing their clinical skills, abilities, and potential through a visiting rotation, mentorship, and networking opportunities.
Joseph Harter discovered his passion for medicine after witnessing the dedication of UW Health physicians during his mother's battle against cholangiocarcinoma. Now, as a student at the Medical College of Wisconsin, he is making a positive impact on both patients and their loved ones.
During a surgical oncology rotation, Harter assisted in Whipple procedures to treat the same cancer his mother faced. This deepened his understanding of the art of medicine and the special role physicians have in serving others during life's most critical moments. These combined experiences inspired Harter to pursue a career in general surgery. He participated in the URiM program to gain a broader perspective on the elements that define general surgery.
"This rotation immersed me within a vibrant academic community that has been foundational in shaping my personal and professional development," Harter said.
Harter was eager to return to the University of Wisconsin–Madison, where he received his bachelor's degree in Materials Engineering in 2020. From the abundance of outdoor activities to the energy of students pursuing their goals, he was excited to reconnect with Madison.
Harter was impressed by the friendliness and support from the general surgery team. "Physicians are truly invested in your education and passionately share their knowledge of colorectal surgery," he said. "I particularly appreciate the continuity of care, not only being involved in the operating room but also as an integral part of patients' recovery."
The commitment to proactive leadership that Harter experienced as a part of his rotation is something he hopes to cultivate throughout the rest of his career. "I was inspired by the ability to learn alongside a surgical team that is dedicated to alleviating rural healthcare disparities and advocating for the well-being of residents within these communities," he said.
Harter envisions bringing his surgical expertise to underserved communities in Wisconsin. His goal is to have a career in rural general surgery characterized by patient-centered care, innovation, and student mentorship.