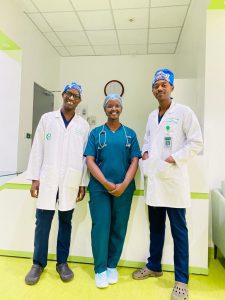 Planning for my visit to King Faisal Hospital in Kigali, Rwanda, started long before my August trip, with Zoom-based case conferences and What'sApp communication so that we could hit the ground running. However, we knew we had to remain flexible as additional patient needs were identified just prior to and during our visit. After landing in Rwanda on Aug. 17 morning at 1 a.m., I arrived at the hospital at 9 a.m. and saw clinic patients in preparation for the following week. Operations and procedures occurred Friday of that week and Monday through Friday of the following week prior to departing for home late Friday evening, Aug. 25.
Thoracic surgical patients would transfer to the ICU routinely due to nurse staffing ratio and other care needs. The ICU team was involved in the care in a collaborative way. Every morning we would round as a team in the ICU on the most recent patients and on the floor as patients moved further along in their convalescence. Evening rounds occurred late in the day as operative day often went long.
My team was made up of Dr. Niyonshuti Norbert, our resident, Havugimana Fidel, and our intern, Kabano Benigne. It felt very much like a surgical team at home with trainees of varying levels. Teaching occurred both on rounds and in the operative theatre. We would discuss patients, review images with radiology and triage to prioritize operations in an effort to get as much done as we could. Our resident, and Dr. Norbert particularly enjoyed their introduction to CTSNET educational information and would review YouTube videos prior to our procedures. There was great camaraderie between the surgeon team and the surgical staff. Queen, Danny and all the nursing and scrub staff were capable and fun. They were also flexible and willing to do things that were not in their normal daily routine.
During the visit we did two to three cases per day. Some of those were smaller cases like rigid bronchoscopy, endoscopy or ultrasound guided interventions. But most were thoracotomies for infectious or malignant disease. Infectious disease was often the sequelae of tuberculous infection and chronic disease affecting quality of life. Decortication was a repetitive theme and usually required open thoracotomy. We emphasized a muscle sparing approach in case resection was required and muscle flaps were required to fill space that could be re-infected or delay healing. On a young soldier with extensive post tuberculous bronchiectasis and infection we performed pneumonectomy with latissimus and serratus muscle flaps to the pleural space. Though not a common occurrence at KFH, the young man did not skip a step and hopes to rejoin his regimen in short order.
The visit was not without its challenges. As we see in the United States, there is competition for OR rooms, ICU and hospital beds. Hospital capacity limited the number of operations we could perform. Insurance approval delayed some procedures we hoped to perform during our visit. Some of the bronchoscopic and endoscopic equipment would benefit from an update. However, the institution and surgical teams are committed to increasing capacity and surgical complexity and the King Faisal Hospital administration is willing to financially support both the people and equipment needed to succeed.