The Department of Surgery is thrilled to welcome Rebecca M. Minter, MD, as our next Chair, effective January 1st, 2018. Dr. Minter will hold the Anthony Curreri Chair in the department.
Dr. Minter is a national leader in academic surgery. She is a pancreaticobiliary surgeon who has a particular interest in the management and treatment of benign and neoplastic diseases of the pancreas. Dr. Minter's research efforts are primarily focused within the domain of surgical education in the development of innovative training paradigms. Prior to her move to the University of Wisconsin, Dr. Minter held successive leadership roles at the University of Texas Southwestern and the University of Michigan, including serving as Chief of the Hepatopancreatobiliary Section/Division at both institutions.
A glance at Dr. Minter's CV reveals that despite her extensive accomplishments, she has not finished pursuing her education. She is currently working toward a Masters of Business Administration with a focus in in Healthcare Leadership and Management at the University of Texas Naveen Jindal School of Management.
Dr. Minter is relocating to Madison accompanied by her husband, John Rectenwald, a nationally known vascular surgeon whom we are fortunate to have join our department, her children Kate (5), Matthew (8), and Jack (10), and another vital member of her family, her mother-in-law, Lucy Cauchi.
Fast Facts about Dr. Minter:   
BS magna cum laude from the University of Denver
MD from the University of Texas Southwestern Medical Center
Residency in general surgery and research fellowship training at the University of Florida College of Medicine
National and international leadership positions including:

President of the Americas Hepatopancreatobiliary Association
Chair of the International Hepatopancreatobiliary Association Education and Training Committee
Associate Editor of the journal HPB
Immediate past President of the Society of University Surgeons and the Fellowship Council
On one of her recent visits to our campus, we had the opportunity to talk with Dr. Minter; here are a few excerpts from our conversation:
Tell us about your vision as Chair:
Leveraging the talent and strengths in our department and the broader institution, I hope to build on our strong health services research program, premier clinical programs and population health efforts in the institution, to truly define surgery in the context of value-based healthcare. I think Wisconsin's long-standing history and tradition of partnering with the community also creates unique opportunities to engage in population health that may not exist in other communities.
What is most rewarding about your work in academic surgery? 
In practice, we help one patient at a time, but to be a part of academic surgery—whether that's through training the next generation of surgeons, or performing cutting-edge research that identifies new treatments or therapies, or developing clinical programs that change the way that we manage a disease or condition—is to be part of moving the field forward. It's exciting to me to be a part of that larger work.
When you think of the future of the field, what gives you a sense of hope?
The caliber of individuals entering the field only continues to be more impressive, whether that's at the level of medical school applicants, residency applicants, or faculty. This means that even though we have challenges coming with cost containment, appropriateness of surgery, and ensuring that quality of care is high and consistent, given the talent of the people coming into medicine and surgery, I feel very confident that we will find solutions to those challenges.
What do you and your family look forward to about living in the city of Madison? Any trepidations?
We are excited about getting back to a University town and community, and the kids are looking forward to snow and winter sports. They are a bit concerned about how to show support for their new Big Ten team, but they've already begun to make the transition, as evidenced by their game-day gear and face paint.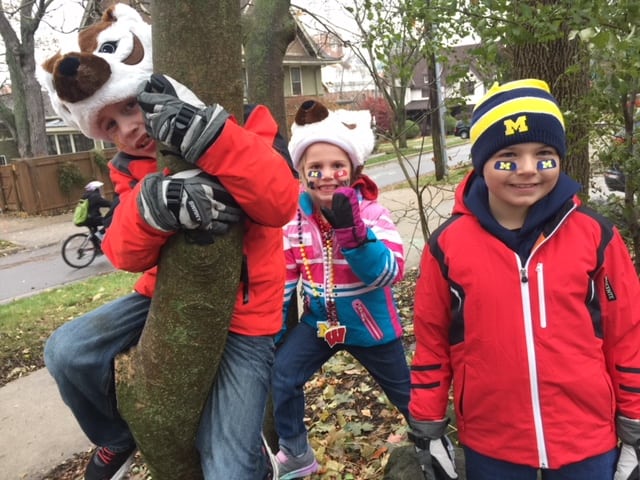 To stay updated on Dr. Minter as she makes her transition to the Department of Surgery, you can follow her online on her Twitter account.
We look forward to having Dr. Minter bring her considerable talents and unique vision to our department!