This image shows a VATS lobectomy in action
Despite reductions in smoking, lung cancer remains the most common cause of cancer-related death in the United States in both men and women. Great efforts have been made to identify patients with lung cancer earlier in the course of their disease when treatment can be very effective. CT screening in appropriate risk patients has been demonstrated to reduce mortality related to lung cancer, and recent national legislation has confirmed Centers for Medicare & Medicaid Services (CMS) reimbursement for CT screening because of the improved outcomes.
Treatment Options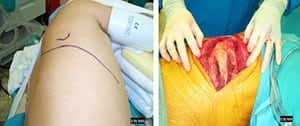 In early stages of lung cancer, surgical resection is the mainstay of treatment and provides patients the best outcomes. The standard of care for surgical treatment is lobectomy and lymph node dissection. This affords patients the best local control and the most accurate staging.
The procedure in its traditional form using a posterolateral thoracotomy has significant morbidity for our patients. This patient population is often older and with significant comorbidities due to tobacco use. One of our goals as dedicated thoracic surgeons is to reduce the physiologic insult of the procedures we perform. A minimally invasive approach to lung cancer surgery is not a new idea. The first video assisted thoracoscopic (VATS) lobectomy was described in 1991. As opposed to other minimally invasive techniques that quickly surpassed their open counterparts, VATS lobectomy remains a minority of the lobectomies performed in the United States today. There is wide variation in the utilization of VATS across the United States, even amongst urban and academic centers. Increased rates of adoption are more often seen in high-volume centers and academic institutions with resident training programs.
VATS Approach
The benefits of a minimally invasive, or VATS, approach to lung cancer surgery include:
Equivalent overall and disease-free survival (1,2,3)
Lower cost (4)
Shorter hospital stay (2,3,4)
Shorter chest tube duration (3)
Fewer perioperative complications (2,3,4)
Greater likelihood of home discharge (2)
Fewer delays in adjuvant therapy (5)
The technique for VATS lobectomy includes two or three ports, or small incisions, through which specialized instruments are placed, and an access incision that is typically 3-4 cm in length. Visualization of the thoracic cavity is on video screens that can be seen by the whole team, which facilitates personnel understanding and interaction. The technical and oncologic aspects of the resection are otherwise unchanged from the open thoracotomy approach isolating and dividing the arterial inflow, venous outflow and bronchial airway. A lymph node dissection, including mediastinal lymph nodes, is then performed to confirm staging and determine if additional treatment is of benefit to the patient.
Watch a video of a pulmonary arterial dissection during a lingular segmentectomy
Initial indication for VATS lobectomy was limited to stage IA disease. As experience with the technique has matured over the last decade, it is clear that patients with nodal disease may have the most to gain from this minimally invasive approach as they are less likely to have delays in chemotherapy and more likely to complete their course of treatment. The introduction of the minimally invasive approach to lung cancer also has facilitated surgical lung biopsy for patients who have a high likelihood of malignancy. In the growing or high-risk solitary pulmonary nodule additional invasive diagnostic procedures are rarely necessary. VATS biopsy can be performed and if malignancy is found, curative surgery completed during one anesthetic. Expediting cancer diagnosis and treatment leads to improved outcomes and patient satisfaction.
Watch a video of bronchus dissection during a lingular segmentectomy
Our Experience
At the University of Wisconsin Hospital and Clinics we have aggressively utilized a minimally invasive, or VATS, approach to lung cancer surgery. Based on review of Medicare data, UW Hospital has one of the highest rates of minimally invasive lobectomy in Wisconsin, the Midwest and nationally. Part of our academic mission is to continue the education process for other physicians. To that end we have been working to increase the rate of VATS lobectomy adoption in our region and nationally by offering courses for practicing surgeons intent on transitioning from an open to a minimally invasive approach.
For more information
The Thoracic Surgery doctors at UW Health offer consultation and surgical management for disorders and diseases involving the airway, lung, chest wall, pleura, mediastinum, diaphragm and foregut. If you would like to refer a patient to our staff, please call Thoracic Surgery at the University of Wisconsin Hospital and Clinics at (608) 263-7502.
References
1 Su S et al. J Thor Cardio Surg 2014
2 Nwogu CE et al. Ann Thorac Surg 2015
3 Whitson BA et al. Ann Thorac Surg 2008
4 Swanson SJ et al. Ann Thorac Surg 2011
5 Ann Thor Surg 2007 April (4):1245-9f