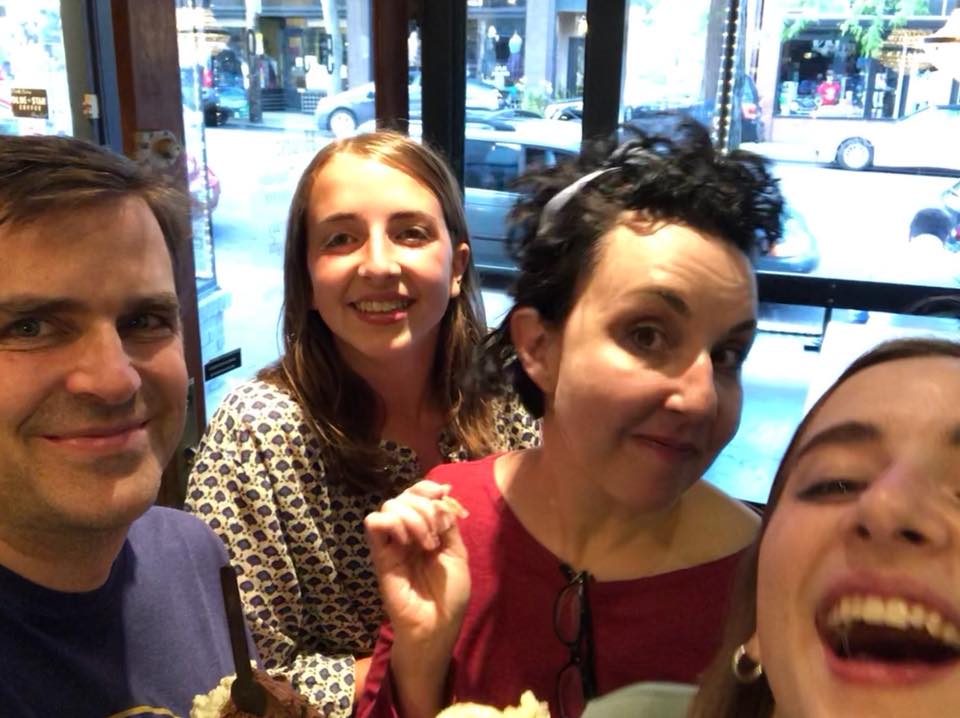 Dr. Andrew Wright with his wife, Stacey, and daughters Harriet and Ada.
Catch up with Andrew Wright, MD, graduate of our general surgery residency.
What year did you graduate?
2005
What was your area of surgical focus during your time here?
Research in surgical oncology and engineering – we developed several new devices for radiofrequency and microwave ablation of liver tumors including one that was patented and licensed (but never commercially produced). I was also involved in medical student education, including developing a series of educational videos. Clinically I developed an interest in minimally invasive, foregut, and hernia surgery – which continues to this day.
Where do you work now? 
I'm at the University of Washington (the "other" UW), where I am Director of our Advanced Gastrointestinal MIS/Bariatric fellowship, run our hernia center, and actively involved in surgical education through our simulation center.
Reflecting on your time here at UW Dept of Surgery, what do you believe helped you prepare for the surgical career you have now? 
UW provided an amazing balance of both clinical and academic experience, all in an environment where there is great culture of education and respect. Culture starts at the top, and I've carried with me the respect for my patients, colleagues, and trainees that I learned at UW.
What is a fond or funny memory you have that brings a smile to your face when you think about your time at UW? 
I miss many things at the UW, including summers at the Memorial Union and the annual ice fishing party at our program director's house. I still remember the 1st central line I ever placed– my chief at the time was Sharon Weber and her patience, skill, and compassion (and dry humor) will always stick with me. In fact, one of my major academic projects has been on education in CVC placement! I also distinctly remember when one of my co-residents (now a prominent academic surgeon) "borrowed" the slushy machine from the cafeteria for a summer party and returned it before the cafeteria re-opened in the morning…
How do you instill the values and lessons learned during your UW Experience to a new generation of surgical trainees? 
There is a real respect for surgical education at UW, and that led directly to making surgical education a major component of my own career post-residency. I had come to UW from a more traditionally "old-school" medical school where trainees were routinely humiliated and demeaned. I specifically chose UW for residency for its culture of respect and education, and try to model that in my own career now.
Do you stay in touch with your co-residents and faculty from UW?
I look forward to the UW reception at the American College every year, so that I can catch up with friends and former faculty. I especially enjoy catching up with Harms, Bernhart, and Rikkers there, as well as my former co-residents like Sharon Weber and Becky Sippel. I see several former faculty and co-residents at SAGES as well, including Jon Gould, and I see Tadge Kanjo a few times a year when his work brings him through Seattle. I've also become friends with Jake Greenburg through SAGES, although we didn't overlap at UW. The former UW resident I see most often, though, is Erin Lange – who is my partner at Northwest Hospital.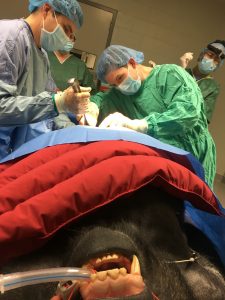 What else have you been up to these days?
We had twins while I was in the lab in residency, and it's crazy to think that they are now 1st years in college! Harriet is studying Engineering at Smith and Ada is at Carleton thinking about pre-med. My wife Stacy recently moved from being a High School English teacher to being a middle school librarian, and loving it! Last summer I had the amazing opportunity to help operate on a Silverback Gorilla at the Woodland Park Zoo, who had an strangulated hernia. Jonathan Kohler was one of my residents in Washington and he actually interviewed me about it for his podcast.
Thanks for chatting with us, Dr. Wright! Are you interested in sharing an update with the alumni network? If so, email us at alumni@surgery.wisc.edu to be included.