University Hospital is among an elite group of tertiary health care centers. It is one of only 12 hospitals in the country to hold three care designations:
• Verified Burn Center (for children and adults)
• Level I Trauma Center for adult patients
• Level I Trauma Center for pediatric patients
We are the only hospital in Wisconsin to provide this level of care in one facility.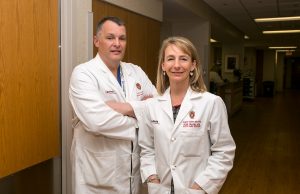 In the United States there are only 60 burn centers verified by the American Burn Association in association with the American College of Surgeons. The care provided by our physicians and staff is highly specialized. Healing for burn patients is different than for patients with other types of injuries. To aid the body in healing a burn wound, often a second wound is created when skin is borrowed from a healthy part of the body. As a burn wound begins to heal, the patient's new skin doesn't function exactly the same as it did before. Without question, healing is a life-long journey, both physically and emotionally. It extends beyond inpatient care to treatment, rehabilitation and adjustments throughout a person's life.
When someone is injured and receives treatment at the UW Health Burn and Wound Center, they become part of our burn family. A patient's length of stay can be long, often longer than many other severe injuries. Relationships develop during that time between caregivers and patients, and with family members who are also affected. While our treatments for burns are on the leading edge of care, our compassion and care for families is extremely high.
Components for Continued Success
Retaining and Attracting Faculty to Ensure our Future
Investing in our faculty is key to the current and future success of our medical institution. Our faculty, in many cases, act as clinicians, researchers, and educators, and are the lifeblood of the School of Medicine and Public Health (SMPH) and UW Health. It is no secret that our peer medical institutions from across the United States have recruited and hired away some of our best UW SMPH faculty over the years. Our goal is to consistently identify ways to retain our best faculty and to recruit the next generation of extraordinary faculty members.
One way to achieve this goal is by creating endowed chairs and professorships to honor star faculty members. Being awarded a chair or professorship is not only an honor, but provides flexible annual financial support to the recipient to advance his/her research, clinical, and educational work. Often, faculty members use chair and professorship revenue to hire additional research staff, and support visiting lecturers.
Research
For more than 20 years, our faculty researchers have been working to find new skin substitutes to graft and heal burn wounds. We are committed to being among the first to offer groundbreaking treatments to our patients. An enhanced and expanded Burn and Wound Center strengthens our collaboration with scientists in Madison and across the globe.
Staff Education
Burn care is unique. Specialized care requires specialized training, often only offered out of state. We hope to send as many staff as possible to an annual conference at a current cost of $30,000 annually.
Program Support – Child Life Specialists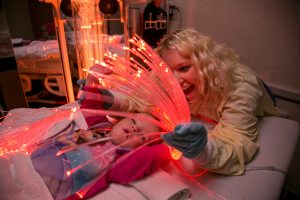 The Child Life Program consists of trained professionals with backgrounds in child development. Certified Child Life Specialists help children, adolescents and families cope with the fear and anxiety associated with the medical
environment and hospitalization.
• UW is 1 of only 3 centers in the nation that provide Child Life services with 24/7 coverage.
• All pediatric burn centers must have a Child Life Specialist to be verified.
• UW Health's Child Life Program is ENTIRELY funded by philanthropic dollars.
Expanding and Enhancing the Patient Experience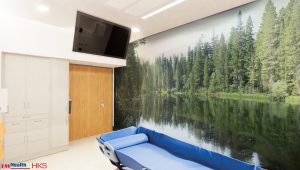 Continuing our leadership as Wisconsin and the region's most innovative Burn and Wound Center is critical. Renovations are currently underway to transform a former intensive care unit at University Hospital into UW Health's new Burn
and Wound Center.
Key Components to Advance Our Burn and Wound Center:
• More space, including additional tub and procedure rooms, a therapy room, and a kids' playroom.
• Research – Inspiring and supporting the next generation of surgeon scientists to take questions from clinical practice into the lab to develop solutions that can be translated back into clinical use.
• Education – Burn care is unique, requiring specialized training often only available out of state.
• Program support Examples are Survivors Offering Assistance and Recovery (SOAR) and a Dedicated Child Life Specialist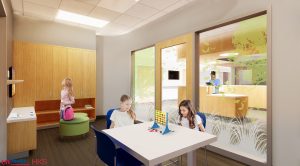 UW Health will commit significant funds in the renovation, but this will not be enough to achieve the ultimate goal of an ideal healing space for burn patients and their families. The new facility will increase the number of beds from 7 to 11, and provide greater efficiency and communications among care teams.
The new physical space will include:
• Two Tub Rooms
• An enhanced Physical Therapy/Occupational Therapy Gym on the unit
• An additional Procedure Room
• A Family Conference Room
• A Playroom for children
To discuss how you can support the Burn and Wound Center, contact:
Michelle Oster
Managing Senior Director of Development
UW Department of Surgery
Wisconsin Foundation and Alumni Association
Direct: (608) 265-9144 • Cell: (608) 345-2953 • Email: michelle.oster@supportuw.org
You can also make a gift online to the Burn Team Advancement Fund >>