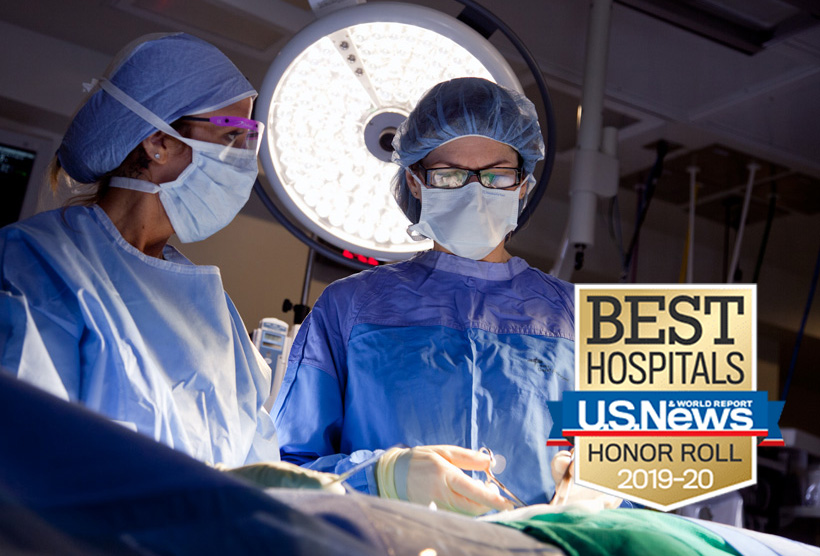 For the first time in the history of U.S. News & World Report's "Best Hospitals" rankings, University of Wisconsin Hospitals and Clinics are listed on the Honor Roll – the 20 most highly ranked hospitals in the nation. We are proud to be part of such a high-performing institution!
The designation, which includes both University Hospital and UW Health at The American Center, puts the hospitals at no. 17 among the more than 4,500 analyzed.
We are especially proud of our teams who contribute to high quality care, including in these highly ranked specialties:
Cardiology and Heart Surgery (25)
Gastroenterology and GI Surgery (26)
Pulmonology and Lung Surgery (34)
Cancer (48)
Ear, Nose and Throat (49)
A top-50 ranking means the ranked hospital is in the top two percent of U.S. hospitals for this care. In addition to these rankings, UW Hospital was ranked as high-performing in:
Abdominal aortic aneurysm repair
Aortic valve surgery
Colon cancer surgery
Heart bypass surgery
Heart failure
Lung cancer surgery
High-performing hospitals are those in the top 25 percent within a given specialty.
Earlier in the year, the American Family Children's Hospital, where many of our surgeons and staff also work, ranked as a top children's hospital in four medical and surgical specialties, placing it among the elite children's hospitals in the nation. Our teams support these two surgical specialties that placed in the top 50 in the nation:
Pediatric cardiology and heart surgery (39)
Gastroenterology and GI surgery (50)
We are so proud of our faculty and staff who provide excellence in surgical care every day.